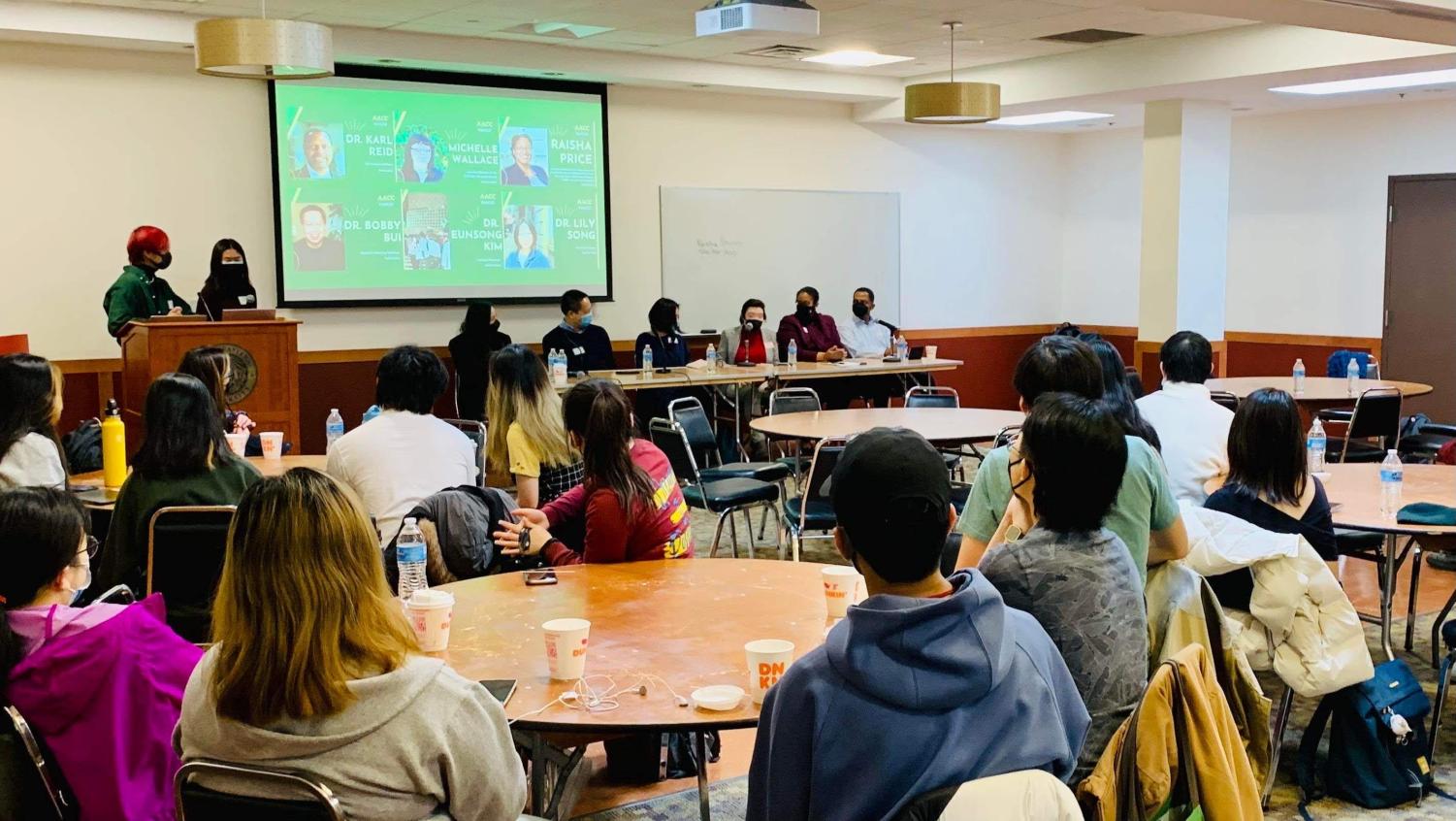 Asian American Community Advocates for Hiring of New Faculty and Creation of Asian American Studies Program
Late last month, members of Northeastern University's Asian American Community Leaders sent a letter to two university deans in hopes of establishing a stronger foundation for the existing Asian studies program at Northeastern.
The letter, which was sent Feb. 28 to Dean Uta Poiger of the College of Social Sciences and Humanities and Dean Elizabeth Hudson of the College of Arts, Media and Design, also called for an Asian studies program Americans be created at the university.
In March 2021, student leaders from the Asian American Center programs, known as the Team 442along with other Asian, Pacific Islander, Desi American, or APIDA students identifying students attempted to draw more attention to the need for Asian and Asian American studies on campus by posting a open letter.
In the letter, they cited the university's lack of tangible action items following the murder of six asian women in the atlanta area, and how there is a lack of opportunities for students to take courses on Asian American issues at Northeastern. They described a number of changes they wanted to see from the university, including the ability to meet with administrators, increased resources for communities, and APIDA programs in the Northeast and around Boston. and increasing culturally appropriate mental health resources for minority students, among other demands.
After several meetings with faculty and administration, a cluster hiring was licensed for Asian American Studies at the College of Social Sciences and Humanities, or CSSH, meaning the university would be actively seeking several tenure-track faculty members. In this latest follow-up letter, student activists pleaded for the hiring of no less than six new faculty members.
"When we initially came forward to engage in this dialogue with you, we emphasized the need for a consistent offering of Asian and Asian American studies courses," reads the February letter. "We also noted that in order to do this, it would be imperative to hire a multitude of tenure-track faculty to ensure that there are permanent resources for permanent needs on campus. Currently, Northeastern has only a handful of tenured and tenure-track faculty who are experts in Asian American studies.
Lauren Bough is a member of the Asian Studies Student Advisory Council and one of the named signatories of the letter. Bough graduated from Northeastern in December 2021 as an International Business major with a minor in East Asian Studies. Although she has already graduated, Bough stressed the importance of ensuring that these changes are implemented for future students.
"What we're trying to do with hiring the cluster is we're trying to create arrangements where Asian American and Asian studies courses become a priority," Bough said. "To do everything that we, as an advisory board, have imagined, we need this permanent faculty leading to permanence that is there to provide permanent resources for permanent needs.
Bough also cited that while peer institutions in the Northeast have these programs in place, the Northeast refuses to fill this gap in their curriculum. She argued that although changes have been made, the university still has a long way to go.
"Boston University is one of the most renowned programs for Asian Studies and Asian American Studies, and it's right next to us. … Before Christ, DRANK, all of these schools have programs that are supported. And frankly, Northeastern's Asian Studies program is overlooked," Bough said. "It has changed, but it hasn't changed without people pushing for it. If we don't keep pushing, nothing will happen.
History and Asian studies professor Philip Thai echoed those thoughts. Thai helped the students write the letter and chairs the recruitment of the Asian American Studies cluster. Thai explained that Asian American Studies has not yet been incorporated into Northeastern Studies due to its previous history as a suburban school.
"The fact that we don't even have a program says a lot," he said. "The northeast is quite aberrant in that sense. He has nothing. In the history of the program, to my knowledge, there have only been two courses in the 10 years that I have been here. These courses were taught very irregularly, by non-permanent adjunct professors, which tells you what Northeastern thinks of these courses.
Thai explained that cluster hiring permission means the university only needs to hire more than one faculty member. However, he said he believed hiring two or three professors was not enough.
"The administration is willing to make a few hires, but more than one could equal two," he said. "I think it would be a big disappointment from my point of view. The more the merrier, the more important it is, because it creates a necessary important core. … So hiring these professors, even though it looks like a critical mass of people, doesn't necessarily get us to square one, we've come from square minus 10. We have a considerable amount of catching up to do.
Thai said the recruitment committee released the application in early November and received more than 150 applications. They have now chosen their finalists, made their recommendations to the CSSH, and are inviting six candidates to virtually visit campus to meet and chat with students. A meeting was held on March 21, while further meetings are scheduled for March 29, March 30, April 5 and April 7. Thai encouraged students across the university to speak with these potential applicants. Students can find links to these meetings in line.
"I asked the students to come forward and make their voices heard," he said. "These [candidates] are the future of Asian American Studies at Northeastern. So meet them, talk to them, let them know what you think, what you want and also this show of force from the students will send a message to the university that the students are watching this they are watching closely So. This show of force, this demonstration of continued interest is essential. I have no doubt about it.
Thai said it was the passion and drive of the students that made this change happen.
"Student activism is what made this research possible in the first place," he said. "I can say without exaggeration that if the students had not done this, this research would not have taken place. The university wouldn't have known or cared enough to make it a priority.
Poiger, the CSSH dean, responded to the letter in an email to students the day after it was sent. The students shared this email with The News.
"I will be chatting with Dean Hudson and others and looking forward to meeting you in the coming weeks," she wrote. "Please note that your letter contains some misunderstanding about how faculty appointments are made at NU, the important role that faculty teachers play at the institution, as well as the resources available to departments and programs. I look forward to clarifying these questions.
Bough said she was unhappy with the response.
"We weren't thrilled with the response. It's a start, we'd rather have discussions rather than them saying adamantly 'no'," she said.
Going forward, Bough said she hopes tangible changes can be made so prospective students can reap the benefits of an established and well-supported program. Team 442 will meet Poiger on April 7.
"We come into these discussions with the expectation that we will achieve our goals," she said. "I want to do this so I can get students to take the classes that I couldn't take, that I wish I could take now. That's what motivates me. »