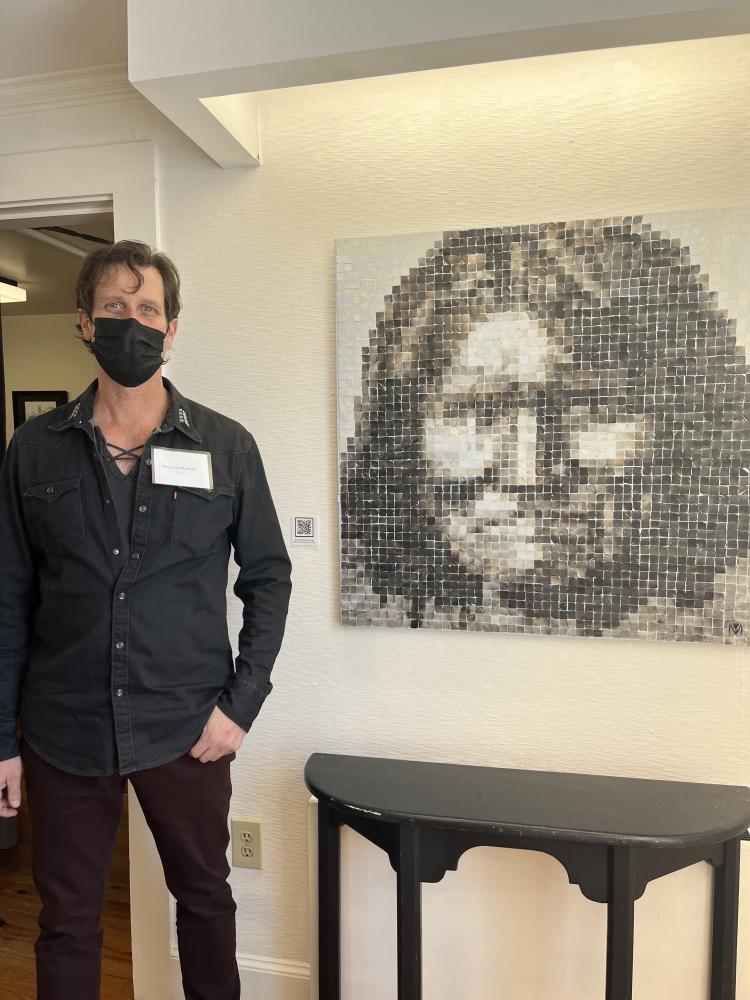 Center exhibit examines Native American culture through a modern lens
MARION — For many Americans, their first or even only exposure to Native American culture is in the making.
The Exploring Native American Culture exhibit at the Marion Art Center contextualizes the Native American way of life from a 21st century perspective.
When visitors enter the gallery, they may not even know where to look first. There are bright colors, intricate designs and faces of iconic chefs staring down at the viewer from the walls.
To curate this experience, Executive Director Jodie Stevens worked with local artist and curator Jess Bregoli to find artists who offered a unique look at culture with a variety of works in different mediums. The trio of artists featured are Max Brown-Garcia, Jacob Ginga (aka Makerjake) and Vincent Mancini.
"What I think is really unique about this show is that we have these three very different perspectives," Stevens said. "I hope this is just the beginning for us to expand our voice to underrepresented populations."
Stevens explained that for Max Brown-Garcia in particular, exhibiting in a gallery is a very new and different experience. "I don't even know if he considers himself an artist, but he is a very gifted craftsman," she said. "His ceremonial regalia are truly amazing."
Brown-Garcia's work shows her Narragansett culture through her perspective, and her pieces command attention with their bold texture and color. These include a bustle made of golden eagle feathers, a feathered helmet, staff, and other insignia. The exhibit also features a pearl necklace he worked on with his mother, Nancy Brown-Garcia. She is a traditional artist best known for her beads, but she also works in other mediums such as leather, feathers and weaving.
The Marion Art Center is currently in contact with Nancy Brown-Garcia for future collaborations. "We plan to do more Native American culture programs and exhibits, and we hope to bring Nancy in," Stevens said.
Jacob Ginga comes from a large and widely known Native American family, and he "occupies the cultural space between his Native ancestry and his traditional middle-class upbringing". As a child he grew up going to powwows and wearing regalia, but as he grew older in college he began to have a "more traditional white American upbringing". Her work is her way of exploring this sense of identity and the "emotionally complicated space" in which it exists.
Ginga didn't come under the alias "Makerjake" intentionally, he was just trying to hide from his high school class. He was 21 at the time of his first teaching job, and he didn't want his students to find him online, so he found the nickname to use for all his social media handles. "It's just stuck," he said.
When Ginga graduated from college, he first worked with sculpture. The portraits and prints that the visitor sees on display at the Marion Art Center are the kind of drawings he used to doodle for fun. "They're different, and I didn't know if people would react well."
However, Ginga ended up doing 14 different portraits on vacation and they all sold out in less than a week. It was a big realization for him. "I've found that people respond well to things you're passionate about. I was talking about something that was part of me and people reacted very positively.
Another aspect of Ginga's work is to explore her culture in modern space. "I think it's important to recognize that there can be a contemporary side to historical cultures, Native American culture is always changing and evolving."
It is also a large part of the work of Vincent Mancini. Although Mancini is not Native American himself, he has a great reverence for the culture and longs to break the stereotypes that surround him.
"I try to change people's expectations and perceptions of Native American culture," he explained. "Some people believe they don't even exist anymore. That's not true."
Mancini's work is created through a process called feather linearization. The process involves delineating an image by arranging segments of cut feathers in a geometric pattern. From a distance the piece may look like a painting, but up close the viewer can examine the intricate details of the feathers.
One of his pieces called "Geronimo Revisited" took over six months and hundreds of hours of feather lineation. The artwork recreates an iconic photograph of Geronimo for a more pixelated look.
"People recognize him as this famous warrior, but there was so much more to him, he was also a shrewd businessman. So I made the image look like an old black and white TV screen to say that if the television was there at that time, he would be everywhere. If Geronimo had the Internet? He would kill him!
Exploring Native American Culture: Art, Craft, and Inspiration will be open to the public through March 25. Regular gallery hours are 10 a.m. to 2 p.m. Thursday through Saturday, or visit other days and times by calling ahead during office hours, 10 a.m. to 5 p.m. Tuesday through Friday.
Masks are mandatory to enter the Marion Art Center. Visit marionartcenter.org/-on-exhibit for more information.