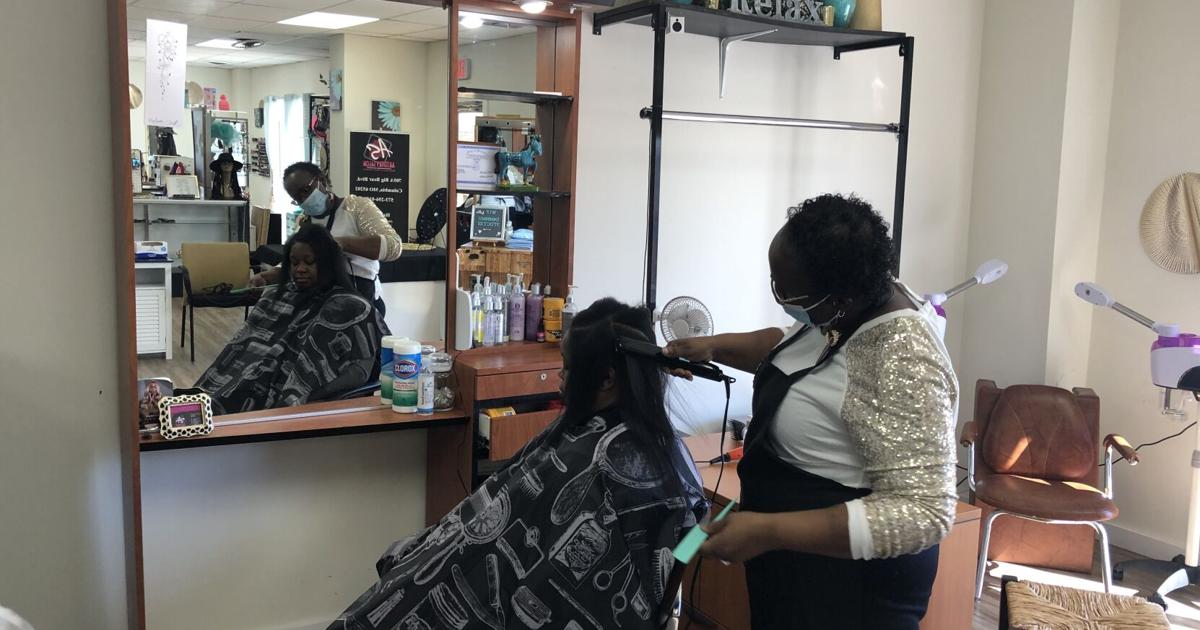 Columbia Salon Owner Expresses the Importance of Hair in African-American Culture | Central Missouri News
COLUMBIA — Columbia hair salon owner Bridget Williams says hair is an important part of self-identity.
"I think it's important because it gives you the confidence and the boldness to go out into the world and be confident. If you don't feel good about your hair, you tend to be more intimidated, a little more anxious. You're not confident," Bridget Williams said.
House Bill 1743 "would prohibit certain discriminatory practices on the basis of hair texture and protective hairstyles". The bill is sponsored by Rep. Shamed Dogan (R-Ballwin).
Dogan said the bill would enter third reading on Thursday or early next week. So far, the bill has received bipartisan support.
"It's a big part of people's identity, their personal identity, their cultural identity as African Americans and it's something very important to people in our culture because it's a way to express who you are," Dogan said.
Bridget Williams owns Art fair, and she has over 20 years of experience in the beauty industry. When she started, there were no teachers in her school who taught how to cut and work with African American hair.
"Because at that time, there weren't many African Americans coming through the school, and there were no teachers. So there wasn't a lot of education based on African American hair," Bridget Williams said.
Bridget Williams said she personally has never experienced hair discrimination, but she said she is aware that hair culture is often discriminated against.
"I've definitely followed hair culture and seen many ways where people are discriminated against based on how they choose to wear their hair," Bridgett Williams said. "I think it's so unfortunate because who are you to tell a person how they, how their hair is growing out of their head is that good or bad? You know, so I really feel like that, you know, I'm really happy to see something being done about it."
Bridget Williams has said she believes there has always been discrimination in black hair culture.
She said she believed the House bill was important, but "sad that the discrimination is taking place in the first place." She said it can affect how someone feels about themselves and their self-confidence.
"If that's what comes to mind, who are you to tell me that's unprofessional, fair or acceptable, that's who I am," Bridgett Williams said.
Bridget Williams stressed that people should be allowed to be themselves and express themselves as they see fit, especially hair.
"So I'm very happy to see something happening at the state and government level that can change that," Bridget Williams said. "I think it's a little sad that we even have to go. You know, I think it's just a little sad that we even have to have things like that in place just to protect ourselves, in the way that we were created, but we are advancing."
She said she strives to create a community environment in her living room, where people can feel comfortable. She said she also strives to maintain a professional atmosphere and fight stigma.
"I think in our culture it's kind of a stigma when you come into the salon community, you're there forever, and people gossip, and it's not that place of professionalism, and I have feel like I'm really trying to change the perception of what black hair salons are," Bridget Williams said.
In her 20 years, Bridget said she had more than 100 clients. She said friendships are what she values ​​the most and her identity comes from her clients.
"I'm able to express my artistic ability with the hairstyle that I put on my clients," said Bridget Williams. "When you can choose when your hair looks good, you feel good. You're bold, you're confident. You're ready to take on the world. So it gives you a sense of self, confidence and worth.
Katina Williams is a first client after her daughter recommended the Artistry salon. Katina Williams said hair is about personal identity.
"My hair gives me confidence. After being successful today, I will feel better, so I do my job better, because I look good," said Katina Williams.
Katrina Williams said she learned to take care of her hair from an early age. Now she comes to the salon because she said taking care of her natural hair was too much work.
"There's a lot in there. I just couldn't keep treating my natural hair and making it look good," Katina Williams said, as Bridget fixed her hair extensions on Wednesday.
The Missouri House gave initial approval for the bill on Monday. If the bill is approved in a future vote, it will be transmitted to the Senate.