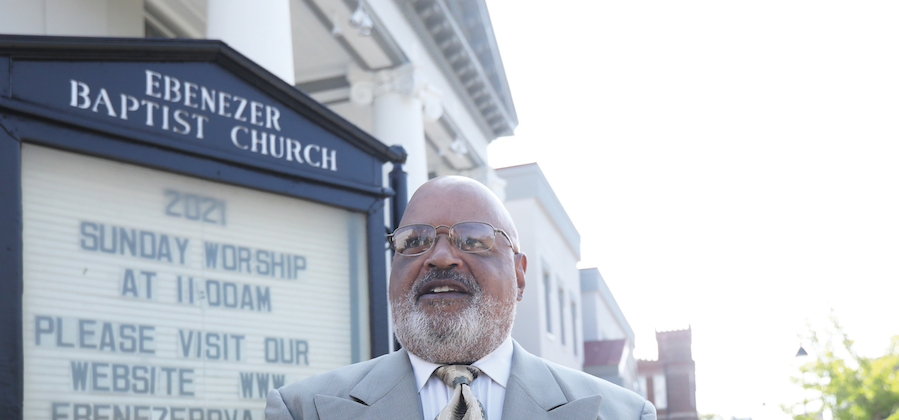 Denied their chance | Richmond Free Press
J. Maurice Hopkins never wanted this story to be written.
Truth be told, Mr. Hopkins never wanted his life to be entangled in the details that continue to make this story poignant more than 50 years later. If the story had been done right by Mr. Hopkins, it could be the simple story of a well-respected Richmonder who talks about the ways in which becoming a Boy Scout, at his mother's insistence, helped shape his life. .
Instead, Mr. Hopkins, 74, is the last living member of the Richmond Black Eagle Scout "should-have-beens," a bittersweet nickname that ties him to a largely unknown slice of history.
Mr. Hopkins said he and his former Boy Scout pal, the late William "Bunny" Roane, were given the nickname of the late Linwood D. Ross, their legendary Boy Scout Leader who led Troop 478 at Ebenezer Baptist Church for over 60 years.
Prior to his death in May at the age of 91, Mr. Ross had won all the awards offered to a troop leader by the Boy Scouts of America. His funeral was filled with tributes and stories of how he led at least 20 boys from Richmond to Eagle Scout, the highest rank in scouting.
For decades, Mr. Hopkins and Mr. Roane were proud members of the multigenerational choir of Ross's supporters. The men also shared a lesser-known bond with Mr. Ross.
"We were his first Eagle Scout candidates," Mr. Hopkins told Free Press. "We were unfortunately refused. But he was always very proud of us, knowing what it took back then to get as far as us. "
Mr. Hopkins and Mr. Roane each joined the Ebenezer program as Cubs in the mid-1950s. Together they rose through the ranks. By the time the two reached high school, they were covered in merit badges – over 50 of them all – all earned under Mr. Ross, and far more than the 21 badges needed to qualify for a Scouting Top Shoot. .
"It was a huge investment of time for William Roane and I," Mr. Hopkins said. "We took it very seriously."
However, the time, the segregated South of the 1950s and 1960s, held them back. As Eagle Scout candidates, the young men had to overcome one last critical hurdle – earn their swimming merit badges.
Mr Hopkins said he and Mr Roane were ready to move on, but the times were not. In Frederick Douglass District, the district under which Black Scout troops operated, there were no bathing facilities sanctioned as approved testing sites.
"We swam. We took it every summer to camp where we had to take lifeguard lessons," Mr. Hopkins recalls. "All we needed was access.
The Robert E. Lee Council of Boy Scouts, the governing body of all scout troops – black and white – at the time, banned black scouts from swimming in whites-only facilities.
"It was terribly disappointing," said Mr. Hopkins, a retired Air Force veteran and small business owner. "You take two impressionable young guys, dedicated from 1954 to 1965, Cubs, Boy Scouts, Explorers. I remember what we had to go through to get there (over the precipice of becoming Eagle Scouts) only to get the rug ripped from us. It affected us both. We talked about it all the time. "
Once the Scout District was made part of the access to licensed facilities, Mr Hopkins said he and Mr Roane left the program. "Our opportunity had passed," he said.
Lawyer George Keith Martin, a senior partner in the Richmond office of McGuireWoods law firm, is one of Mr. Ross' 20 Eagle Scouts. Although he has never heard the story of Mr. Hopkins or Mr. Roane, he believes that not only is it true, but their misfortune likely shaped Mr. Ross's insistence on excellence. .
"He really, really pushed us," said Mr. Martin, who became Eagle Scout in 1968 at the age of 14. "Maybe one of the reasons was what happened to these men. It's a travesty to think they worked so hard and missed their game just because of a badge."
In 2011, the Boy Scouts National Hall of Leadership welcomed Mr. Ross to its ranks. His acceptance speech included the story of two young men who had been his first candidates, said Mr Hopkins, who attended the ceremony at First Baptist Church in Richmond.
"He called us his 'should have been' and gave a brief explanation of what happened to our luck," Mr. Hopkins said.
"He knew he was doing his best," continued Mr. Hopkins. "But I think he felt he had let us down because, as a teacher, father figure and most importantly a scout leader, which was his life's work, he could not overcome the obstacles of racism, bigotry and dysfunctional segregation. "
In the decades that followed, amid glaring signs of social and racial progress, Mr Hopkins said the wound of such clear and intentional inequality never fully dissolved.
"It touched us both," he said of himself and Mr Roane. "We talked about it all the time and then we carried it in silence. Just one of those things. "
With the death of Mr. Roane in 2012 at the age of 66 and, more recently, of Mr. Ross, the memory of a success "should have been" is once again vivid.
"There are a lot of circumstances in life where people could have, should have been, but weren't," Hopkins said. "My life was not wasted because I was refused. But it happened, and it hurts. You don't really forget.
Shortly after Mr. Roane's death, Mr. Hopkins went beyond memory. He wrote a letter to the capital district director of the rebranded Heart of Virginia Boy Scout Council, pleading for the posthumous Eagle Scout recognition to be presented to the Roane family.
The slight possibility of witnessing a decades-old 'social injustice' suddenly corrected propelled him.
"If you believe there is a chance, just a small one," said Mr. Hopkins, "you don't give up. If you believe in yourself and think logically, what have you got to lose? "
Much to his disappointment, the request was denied. The only formal response was mailed to Mr. Roane's widow, Mary. In a 2013 letter, a Heart of Virginia Council official acknowledged that the men "were on the verge of winning and receiving the Eagle Scout Award," and also, somewhat indirectly, that they had probably also been victimized. social injustice.
"I guess in a different place and time, with access to more local programs and facilities, these two men and many other young men could and would have qualified to be Eagle Scouts," wrote Bradford M. Neisheim. .
Although the letter went on to say that "… we cannot trace the steps they took", it made no mention of Mr. Hopkins' request for full posthumous recognition.
The Boy Scouts' Heart of Virginia Council did not respond to Free Press requests for comment.
"From my perspective," said Mr. Hopkins, "a letter to his family acknowledging the injustice would have been sufficient. I wasn't wondering.
With Mr. Ross passing almost five months ago, Mr. Hopkins relives and reluctantly tells the story of what should have been. With each story, he balances a concern for appearing bitter against a lifelong passion for truth and fairness.
"I'm not bitter and I'm not holding onto the past, I don't think so," he said. "The truth is, I was probably the weakest swimmer," he said with a chuckle.
"Maybe I would have switched to Eagle; maybe I wouldn't. But I'll never know because I was denied my chance.