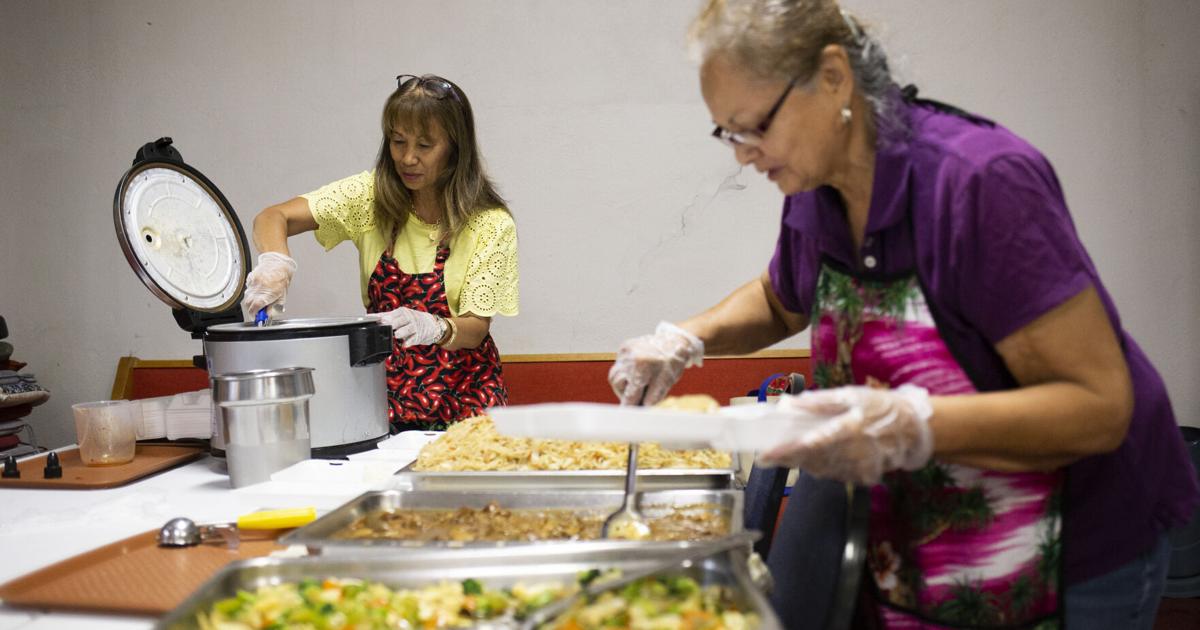 Filipino-American Community Resumes Thursday Lunch Program After Two Month Absence | Local
Greg Sotelo walked into the Filipino Community Hall in Wapato around 7 a.m. Thursday to kick off a decades-old tradition, the Thursday Pack Lunch Program.
"Everyone says, 'Why are you coming so early?' " he joked. "I say, 'Because you have to.' "
Sotelo started the morning cooking chicken and pork that would become adobo and apritada, popular Filipino dishes. When cooked, he tossed the meat into large serving dishes in a chafing dish.
"I want at least six pans to get us going," he said.
For more than two decades, the Filipino-American community in the Yakima Valley has sold lunch to the general public every Thursday at its venue at 211 W. Second St. in Wapato. The breakfast program raises funds to keep the hall running.
Facing harsh discrimination, Filipino pioneers built the hall in 1952 to keep the community together. Their legacy is carried on by their children and grandchildren, who continue to operate the hall.
Historians say it was the first Philippine hall built in the West and is being considered for listing on the National Register of Historic Places.
After a two-month hiatus, the weekly lunch program resumed serving customers at 11 a.m. Thursday. The program also offers free lunches to seniors, thanks to a foundation created by the family of Yakima attorney Blaine Tamaki.
Sotelo expected a large crowd for lunch after the long break. Typically, the community takes a month-long break in July. But this year was delayed because the air conditioning system and a large refrigerator needed repairs.
Jim Tabayoyon, president of the Filipino-American community, said he received several inquiries during the last Thursdays he spent cleaning the room.
"That phone rang non-stop," he said. "I'm sure we'll be getting calls at 10 a.m. (Thursday morning)."
how it started
At first, bingo was a big fan of the hall. Community members would gather, play, and part of the pot would go to the hall.
Then Legends Casino west of Toppenish opened in May 1998, and the room saw a drastic drop in bingo player numbers. That's when a group of women in the community decided to hold a Thursday take-out instead, Sotelo said.
"It's been going on ever since," he said.
At first, the venue was raising about $250 a week from the sale of lunches.
"We thought $250 was a lot of money for us at the time," Sotelo said.
Community member Joanne Barrientos Umipig said it was the wives of the men who built the hall who started the lunch program.
"All our aunts," she said.
Umipig said she began volunteering at the ward after returning to the area in 1999.
"We used to roll lumpia on Tuesdays," she recalls. "We were rolling lumpia on Tuesday, then coming back, and I was running the cash register on Thursday."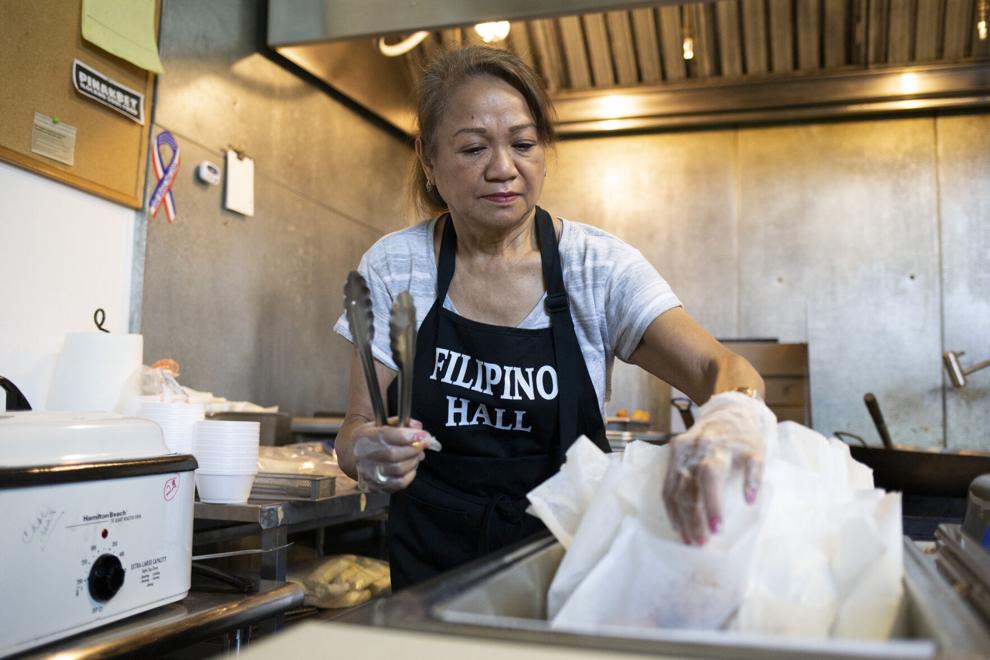 Senior meals
When the COVID-19 pandemic hit the Yakima Valley in March 2020, indoor dining came to an end. The lunch program has become a strict take-out service, with customers receiving their food curbside, Tabayoyon said.
As the elderly are at high risk, the Tamaki family set up a foundation to provide them with free meals.
Blaine Tamaki's wife, Preciosa, and daughter, Briana, ran the seniors meal program.
The Tamaki Foundation recently provided $10,000 to continue the program, said community member and volunteer Diana Ibatuan.
She and Tabayoyon deliver meals to seniors, who appreciate the personal contact.
"Oh, they're actually excited," Tabayoyon said. "Sometimes they stand at the door when you get there."
Ibatuan said giving meals to the elderly provides an opportunity to see how they are doing.
"You hear their stories," Ibatuan said. "Sometimes it's a little sad too."
A man's home was damaged by fire, she said.
"You come back and say, 'What can I do to help?' " she says.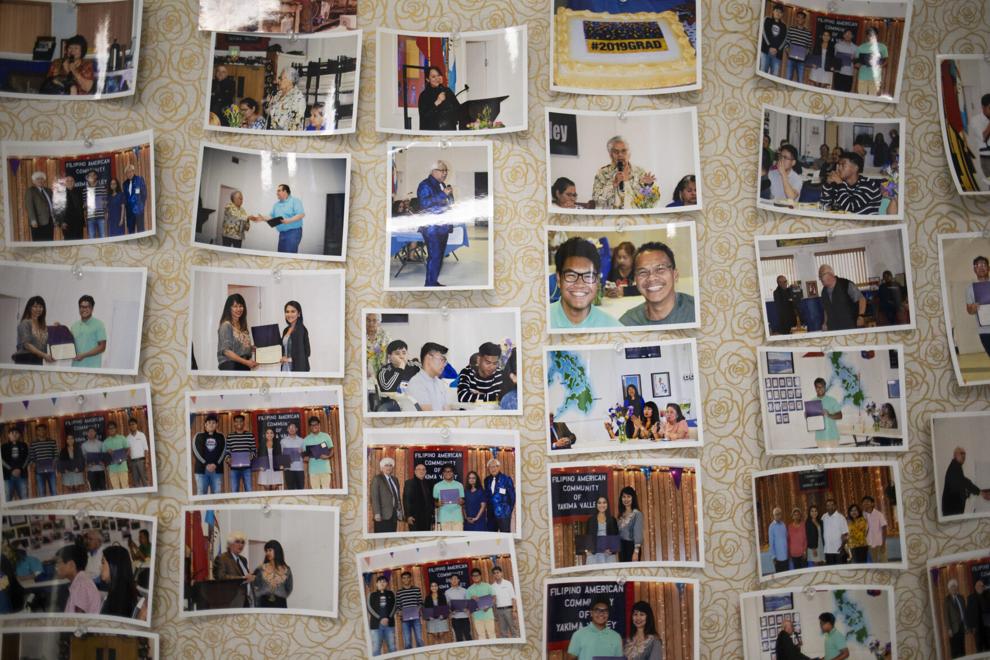 Honoring a Legacy
Umipig said the community over the years has always found ways to keep the venue afloat financially.
"Back then when I was a young girl, we would have these queen contests and sell tickets to keep the venue running – that's what we did," she said.
The hall also had its annual celebration in March, where Filipino food was prepared, she said.
"So people were very in tune with our cultural foods," she said.
Times were not always pleasant for Filipinos. In 1921, a Wapato mob threatened to destroy the homes of Filipino immigrants if they did not leave. Then, in 1930, another mob threatened to hang farmers who hired Filipinos. And in 1937, an amended Foreign Lands Act prohibited Filipinos from renting and buying land, leading to the arrest of 18 Filipinos in the Lower Valley.
It was then that Filipino farmers, mostly living in Wapato, banded together and formed the Filipino-American community of the Yakima Valley. Built in 1952, the hall became the glue that held the community together.
"We are always respectful and remember that our parents built this place for us," Umipig said.
"I remember I was 5 when this place opened. They built this room for us so we have a place to socialize, be together, remember our culture, and still be 100% American. We always know that we can go home to the room and there will be someone we know there. This room is part of all our hearts.