FSU College of Music Professor Receives 2021 Music in American Culture Award
[ad_1]
A Florida State University professor received the 2021 Music in American Culture Award from the American Society of Musicologywhich recognizes the best writing on music in American culture.
Sarah Eyerly, associate professor of musicology, received the honor for her book, "Moravian Soundscapes: A Sonic History of the Moravian Missions in Early Pennsylvania," which explores Moravian music in 18th-century America and the sounds that influenced their religious culture. By blending ecomusicology and sound studies with religious and Native American studies, Eyerly uncovers the relationships between settlers and Indigenous peoples celebrated in song and worship.
"I am truly honored to receive this award from the American Musicological Society," Eyerly said. "As a first-time book author, this project was inspired by my desire to use my background in historical performance and sound design to create a truly 'aural' history of early Moravian communities in the context of the Seven Years' War and the American Revolution.
Through Eyerly's detailed account of how audible and inaudible sound and music affected the religious beliefs and cultural underpinnings of the Moravians, readers are compelled to take part in important conversations about settler colonialism and the survival of Native American music and culture.
"Understanding the role of music in society involves an exhaustive search of written sources as well as the performance and singing of music captured in early hymns and scores," said Gregory Jones, Associate Dean of the College of Music. "Dr. Eyerly truly embodies this holistic approach to musicological research, much like our program at the College of Music.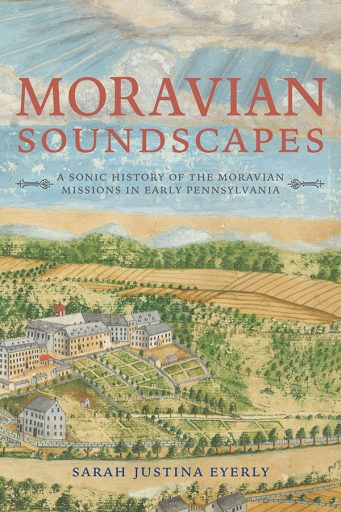 Eyerly said "Moravian Soundscapes" was a collaborative effort that involved community collaborators as well as graduate students in musicology, music performance, and geography at FSU.
"I am grateful for the recognition that the Music in American Culture Award brings to collaborative teaching, research, and publishing in the humanities and the recognition by the American History Scholarship Committee alum who are actively trying to reach a non-academic audience," Eyerly said.
The book is also a finalist for the Waterloo Center for German Studies Book Prize.
Eyerly is a member of the American Indian and Native Studies Committee at FSU and currently serves on the Board of Directors of the American Musicological Society and the Mozart Society of America. His research interests include performance practice, sound studies, Native American music, and geo-humanities.
His work in the field has also been recognized by the American Council of Learned Societies (ACLS), the American Musicology Society, and the Society for American Music.
For more information, visit music.fsu.edu.
[ad_2]
Source link