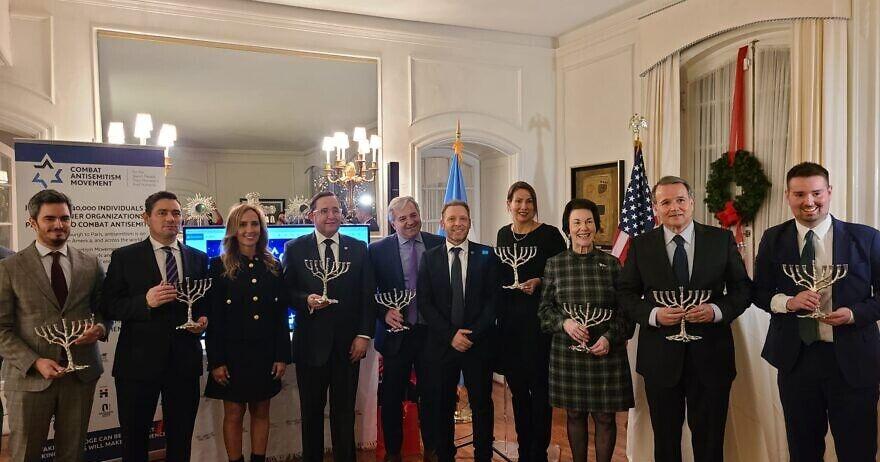 Guatemalan Ambassador Hosts First Hanukkah Event Through Latin American Embassy in United States | JNS
The first Hanukkah feast hosted by a Latin American Embassy in America took place this week at the residence of the Guatemalan Ambassador to the United States, HE Alfonso Quiñónez.
The celebration was organized by the Anti-Semitism Movement (CAM) and the Central American Forum for Israel. High-level ambassadors and diplomats attended the event, including those from Argentina, Brazil, Dominican Republic, Panama, Paraguay, Uruguay, Venezuela and Israel.
The rally coincided with the 74th anniversary of the historic vote on November 29, 1947, on the United Nations partition plan which called for the establishment of two distinct states in Palestine under British mandate: a Jew and an Arab.
During the Hanukkah event, the Deputy Head of the Mission of Israel to the United States, Benjamin Krasna, spoke about the many countries in Latin America that have supported the partition plan two years after the end of World War II. global.
"There are times when diplomats have to make the right decision to support Israel, even if it is not diplomatic," he said. "The story of Israel is the story of the Maccabees, a miracle that brought light to the world and continues to shine with the support of friends like Guatemala who are not looking for reasons not to do the right things. They shine as an example to others by recognizing Jerusalem as the one and only capital of Israel.
Quiñónez spoke of Guatemala's long-standing relationship with Israel, which includes being one of the first nations to recognize the state of Israel and move its embassy to Jerusalem.
The event included a menorah lighting ceremony led by CAM advisory board member Rabbi Stuart Weinblatt. Pastor Mario Bramnick, president of the Latino Coalition for Israel, received the 2021 CAM's "Latino Defender of Israel" award.
All ambassadors in attendance received CAM menorahs and were thanked for their support for Israel and the fight against anti-Semitism.
The post office Guatemalan Ambassador Hosts First Hanukkah Event Through Latin American Embassy in United States appeared first on JNS.org.