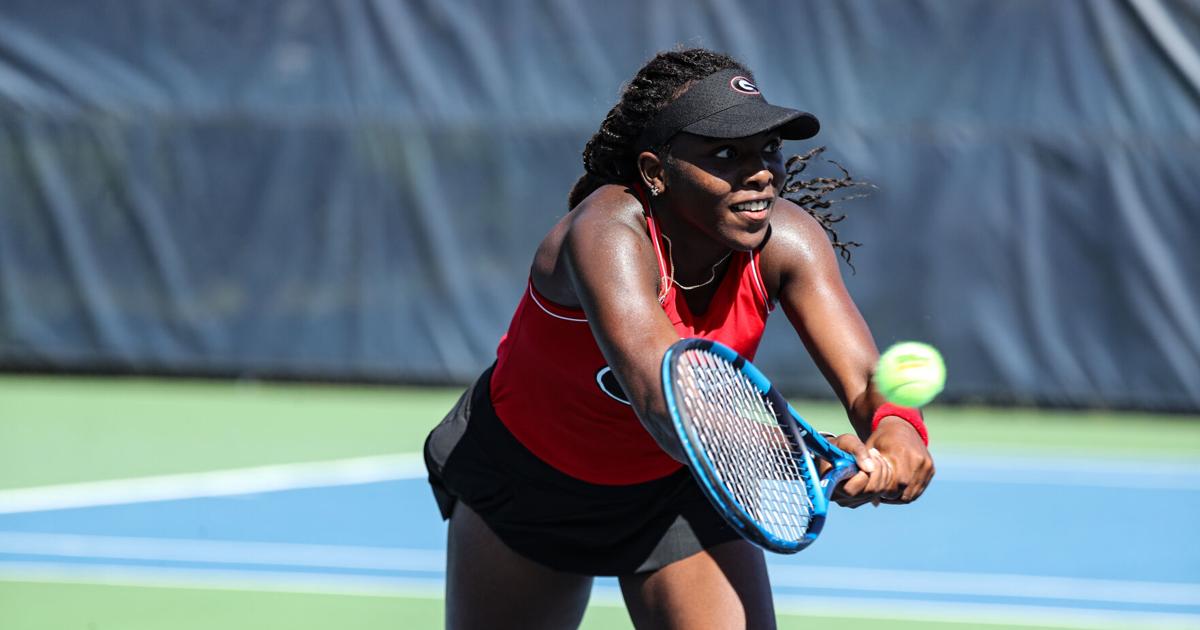 Guillermina Grant and Mell Reasco bring South American culture to Georgian tennis | Georgia Sports
Good energy and good vibes – that's what freshmen Guillermina Grant and Mell Reasco believe their Hispanic heritage brings to the Georgia women's tennis team. The pair bring a lot more, but recognize the importance of their heritage.
Grant, from Montevideo, Uruguay, and Reasco, from Esmeraldas, Ecuador, joined the Bulldogs just over a month ago. Already, the South American duo have made an impact on the team both on and off the pitch.
"What these two have brought to the team is incredible," said assistant head coach Drake Bernstein. "We've had Hispanic players before, and all of them bring their livelihood, their energy and a great outlook."
Good energy
For Mell and Reasco, the Hispanic representation they bring to the team is important. It's something they are proud of.
"I feel pride when I can introduce my country to people here, when I can share my culture," said Reasco.
They feel it when they tell people where they're from, when they play reggaeton or bachata for the team.
Along with their culture score, Grant feels they bring a different attitude to the team.
"I think the way we play is different," Grant said. "We are very committed to bringing the right energy, to being very motivating for the team."
Grant also recognized the stark contrast between Uruguay and life in the United States. For her, recognizing these differences is how she shows that she is grateful to be here.
"[Grant] is frank to understand how well we have it here, "Bernstein said. "It's great for our team, because a lot of times we take it for granted. With it, gratitude is visible on a daily basis.
Both grew up playing tennis. Grant's mom is a coach, so since she was 3 she has been spending her days at the tennis club with a racket in hand.
Reasco, daughter of Ecuadorian footballer Néicer Reasco, made her debut on the pitch a little later. She took her first steps in Brazil at the age of six.
At the time, his father was playing for São Paulo Futebol Clube, so it became the location of his first training ground. When she was 11, she returned to Ecuador, began to train more seriously and began to compete internationally.
Looking forward
Grant and Reasco enjoyed successful careers in the International Tennis Federation world before coming to Georgia. Having reached an ITF ranking of 31 and 20, respectively, they have competed all over the world, with appearances at junior Grand Slam tournaments including Wimbledon and Roland Garros.
According to Grant and Reasco, they have received offers from Pepperdine, Texas, and Vanderbilt, but none compare to what they found in Athens.
"I didn't feel the same connection with other universities and their coaches when I spoke to them," said Reasco.
Their choice went beyond interpersonal relationships. Compared to where they are from, what they saw at the Georgia facilities blew them away.
"Duck [Bernstein] has always been different for me from other coaches I've spoken to, and I loved it, "Grant said. "But the facilities here are crazy. In [Uruguay], it is not normal to have 16 tennis courts for only 20 players… It is the first university that I saw and with which I immediately fell in love.
In the first two tournaments of the fall, the pair combined for 14 wins out of 16 total screenings.
Grant lost in his college debut at Battle of the Bay two weeks ago, but was quick to catch up with a doubles semi-final alongside senior Meg Kowalski, and an unbeaten performance at the Ole Miss Fall Invites a week later.
Reasco didn't make it to San Francisco, but tied Grant with an undefeated college debut at Ole Miss.
Although Grant will not compete this week, Reasco will travel to Charleston, SC where she will compete in the ITA All-American Championship against the country's top Division I players.