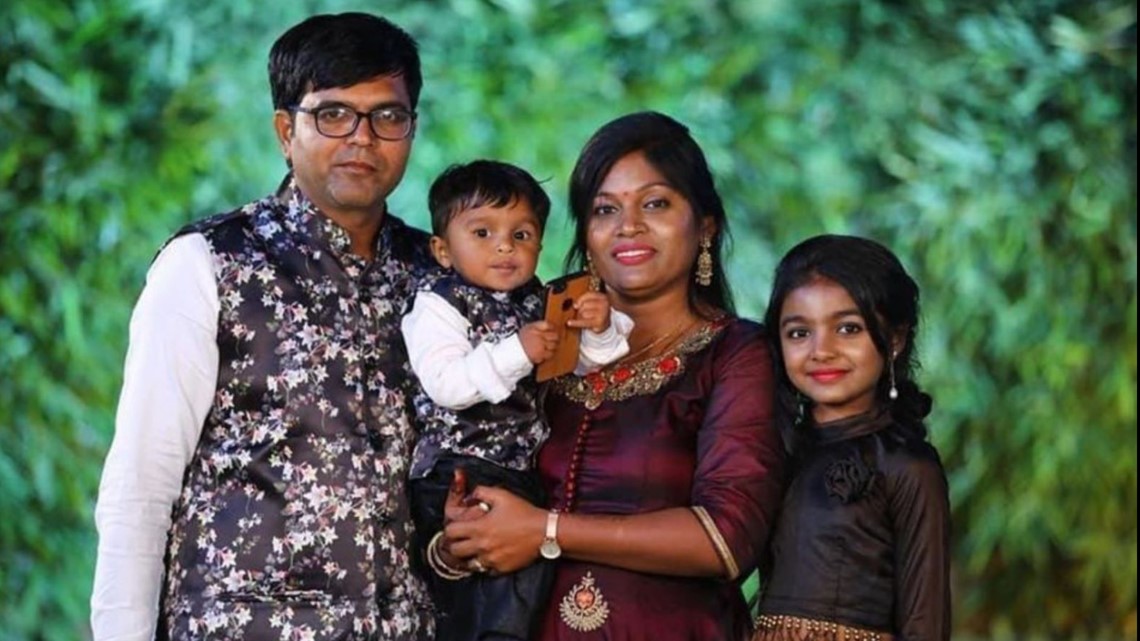 Gujarati American community in MN mourns Patel family tragedy
Several thousand people from Gujarat, a state in western India, call Minnesota home. Many are devastated by the death of a family of four at the border last week.
ST PAUL, Minnesota — When Hitesh and Varsha Pavagadhi learned that the family of four people who froze to death at the Canada-US border were from the western Indian state of Gujarat, they immediately asked how they could help.
The Pavagadhis, who moved to the United States with their young children about two decades ago before settling in the Twin Cities in 2007, are part of a vibrant Gujarati American community of about 5,000 people in Minnesota. . Over the past week they have struggled to process news from the northern border, where Jagdishkumar Patel, Vaishaliben Patel, their 11-year-old daughter Vihangi and their three-year-old son Dharmik died trying to cross into the United States. States near northwestern Minnesota and North Dakota.
According to multiple reports, the Patel family had traveled to Canada from the small village of Dingucha, about an hour's drive north of the Pavagadhis' original hometown of Ahmedabad.
"It was devastating. It came as a shock to us in the community," said Hitesh Pavagadhi, "that the poor members of this family who died were part of the Gujarati community. hearing about this incident, having a small child and trying to cross the border at night.
US federal authorities say the Patel family may have become separated from a group of seven other Gujarat natives, some of whom told investigators they walked in sub-zero temperatures for more than 11 hours .
In a criminal complaint, the Minnesota U.S. Attorney's Office linked the case to a human trafficking investigation, accusing Steve Shand, a 47-year-old Florida resident, of using a van he had leased in Minneapolis-St. Paul International Airport to pick up at least two of the native Indians on the American side of the border.
On the Canadian side, the Royal Canadian Mounted Police now claim to believe that "someone drove the [Patel] family at the border and then left the scene.
For the Gujarati American community in Minnesota, the human trafficking aspect of the case was "a whole different shock", according to Hitesh Pavagadhi.
"It's something that we never even thought about," he said, "that it could happen to someone who we're very close to, who's part of the [Gujarati] community."
It is unclear exactly why the Patels tried to enter the United States, but several international media outlets have visited their village of Dingucha to find out more.
Quoting a cousin, Reuters reported that "the couple felt they were struggling to manage their home and the children needed a better education…they decided to leave India because they didn't failed to find a good job here," adding that a significant number of people in the village have been pursuing opportunities in America in recent years.
The BBC, meanwhile, interviewed neighbors of Dingucha, who said the Patel family had left for Canada on a visitor's visa and that after they had not been heard from for five days, "everything everyone here was worried about getting in trouble so we decided to write to the Foreign Office.
Back home in Minnesota, Hitesh Pavagadhi could only speak generally about why some Gujarat natives seek opportunities in the United States. Pavagadhi, a longtime IT consultant, first moved here to pursue his master's degree.
"It's considered a [point of] pride in some parts of Gujarat, where some people think that if they or any of their family members are in the United States, it is considered a good thing," Pavagadhi said. "Like my brother and I, when we moved here, we came to study and then decided to settle here."
At this point, it's also unclear why the Patels wanted to enter America by stopping first through Canada. The Royal Canadian Mounted Police said they appeared to have arrived in Toronto on January 12, before heading to Emerson, Manitoba on January 18.
"We need anyone who has had interactions with the Patel family or has information about their trip to the border to reflect on what they have been through," Manitoba RCMP Chief Superintendent Rob Hill said, "and advances".
Meanwhile, the other seven Gujarat natives who survived the border crossing have been released from Border Patrol custody, according to a spokesperson for US Customs and Border Protection. However, the spokesperson said all "had been subject to administrative removal proceedings and/or placed in deportation proceedings in accordance with immigration and nationality law", adding that six had received a "supervision order" and one had been released "on a compassionate recognizance order". All will need to report to ICE at some point, according to CBP.
"We would like to approach and find out who these seven people are, and see if we can help in any way," Hitesh said. "Similarly, with the four people who died, we are also trying to connect with their families in India."
Meanwhile, his wife, Varsha, said she shared the Patel family photo with members of her Minnesota community, just to see if anyone recognized them. Minnesota's local nonprofit Gujarati Samaj, which Varsha once led as president, also wants to help where possible.
In the meantime, the search for answers to this tragedy will continue.
"It's unheard of," Hitesh said. "Unthinkable."
Watch the latest local news from the Twin Cities in our YouTube Playlist: