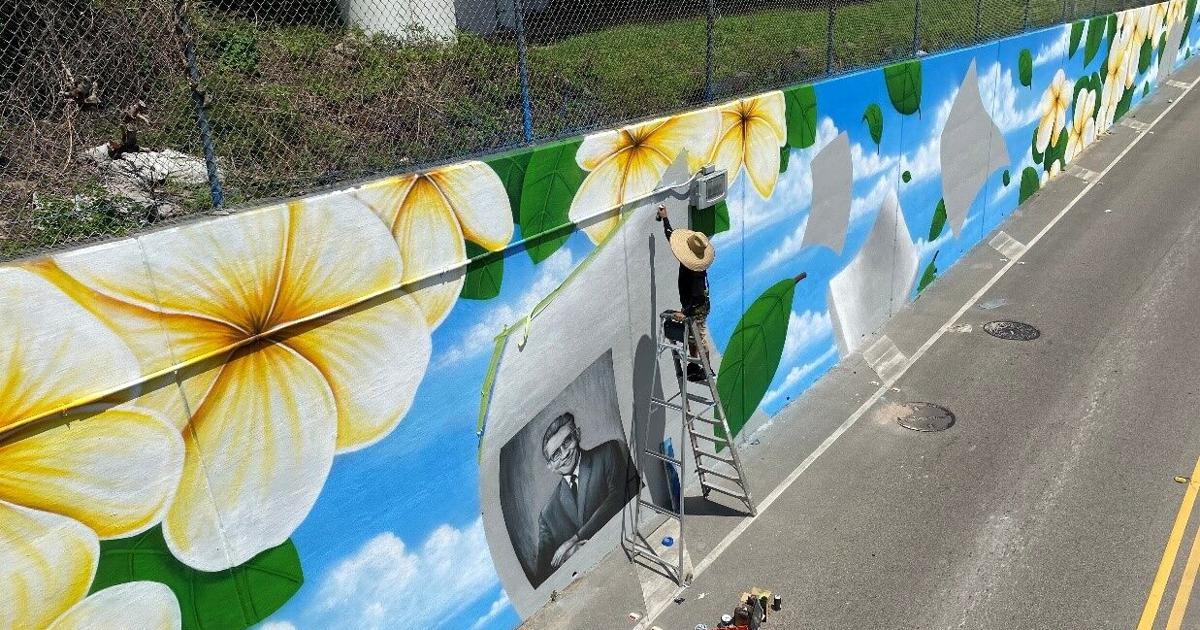 Mexican-American community leader honored with tunnel mural in Near Northside | Community
The Hernandez Tunnel in the Near Northside neighborhood now features an image of its namesake.
The Greater Northside Management District and UP Art Studio, in celebration of Hispanic Heritage Month, are unveiling a mural this weekend that honors the late Judge Alfred J. Hernandez, who grew up in the neighborhood and was the first Hispanic elected judge in Harris. County. An unveiling ceremony is scheduled for Saturday from 10 a.m. to 11 a.m. at 500 N. Main St. between Daly Place and Naylor Street.
The mural, which was painted by Houston Gelson-Guatemalan artist Danilo Lemus, appears on either side of the tunnel's south entrance. It features a portrait of Hernandez as well as plumeria flowers, which were his favorite.
"We are thrilled to unveil this new mural that helps tell the story of our Greater Northside," said Rebecca Reyna, executive director of the Greater Northside Management District, in a press release. "This makes the Hernandez Tunnel a welcoming gateway for anyone who comes to explore and celebrate our neighborhood."
The vision for the mural began in 2015, when the Greater Northside Management District, with guidance from the Houston Arts Alliance and the Houston Housing and Community Development Department, hosted meetings with community members and stakeholders as well as the Hernandez family to discuss a tribute for him. . The tunnel was rehabilitated by the city in 2019, with funding from the Texas General Land Office.
The mural was funded by the Greater Northside Management District and Hardy Yards Tax Increment Reinvestment Zone (TIRZ) 21. UP Art Studio managed the project.
Hernandez, who died in 2010 at the age of 93, was born in Mexico to migrant farm workers, moved to Houston at age 4 and gained his citizenship serving the United States in World War II. according to his obituary in the Houston The Chronicle. Hernandez went on to become a lawyer, judge and civil rights leader, serving three terms as president of the League of United Latin American Citizens (LULAC).
"My sister and I are indebted to those who initiated the plan to improve the appearance of Judge Alfred J. Hernandez's tunnel," said Hernandez's son, Dr. Alfred J. Hernandez Jr. "The tunnel was Named in honor of our father in 1997 through the efforts of individuals in the Hispanic leadership at the time, including City Councilman Felix Fraga The tunnel has been converted into a beautiful landmark that honors our father and his contributions to the betterment of the Hispanic community and creates a remarkable gateway to the Near Northside.