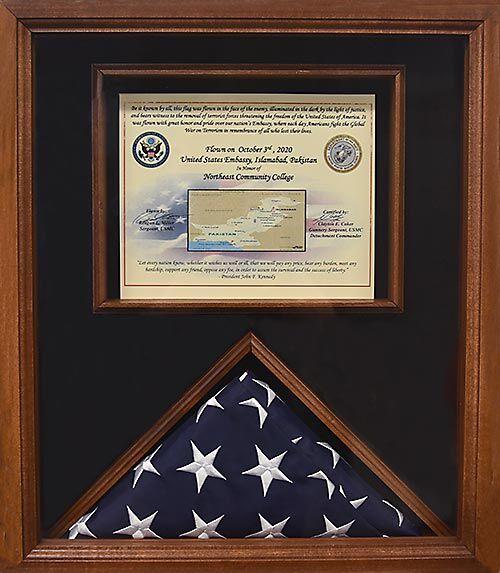 Northeast presented the American flag over the US Embassy in Pakistan | New
Northeast Community College has added more stars and stripes to their collection which has special meaning after traveling from a far away world.
Air Force Lt. Col. Wendi Sazama informed the college that a United States flag was hoisted over the United States Embassy in Islamabad, Pakistan on October 3 in honor of the North- Is, according to a press release.
In addition to the flag, an accompanying certificate reads: "Let it be known to all, that this flag was hoisted over the face of the enemy, illuminated in the darkness by the light of justice and testifies to the elimination of terrorist forces threatening the freedom of the United States of America. It was flown with great honor and pride over the embassy of our country, where every day Americans wage the global war on terrorism in remembrance of all those who have lost their lives.
Leah Barrett, the college president, shared the news of the flag and certificate receiving at a recent monthly meeting of the Northeast Community College Board of Governors.
"On behalf of Northeast Community College, we express our gratitude to Lt. Col. Sazama for his support of our college and proudly accept this most important symbol of our nation," Barrett said.
Sazama, originally from Bloomfield, graduated in 2003 from Northeast. She was previously stationed in Eskan Village, Saudi Arabia, where she served as a staff judge advocate for the United States Military Training Mission. She is currently stationed at US Africa Command, based in Stuttgart, Germany.
After earning a Certificate in Paralegal Studies from Northeast, Sazama received a Bachelor of Business Administration from Wayne State College, followed by a Master of Business Administration and a Doctor of Laws from the University of South Dakota. .
She then obtained a master's degree in military law with a specialty in international and operational law at the School and Legal Center of the Judge Advocate General of the Army.
Upon his induction into the Northeast Alumni Hall of Success in 2016, Sazama said, "The foundational courses that the Paralegal Certificate (Northeast) program has provided me with are the ones that took me through some of my studies to another and served as a springboard to progress on the road where I am today.
Barrett said Northeast Community College is honored to receive this extraordinary recognition.
"The flag of the United States reminds us that people like Lt. Col. Sazama have dedicated their lives to serving and defending our nation, for which we are very grateful," she said.
The flag and certificate are displayed next to the college wall of honor inside the main entrance to the Maclay building on the Norfolk campus.