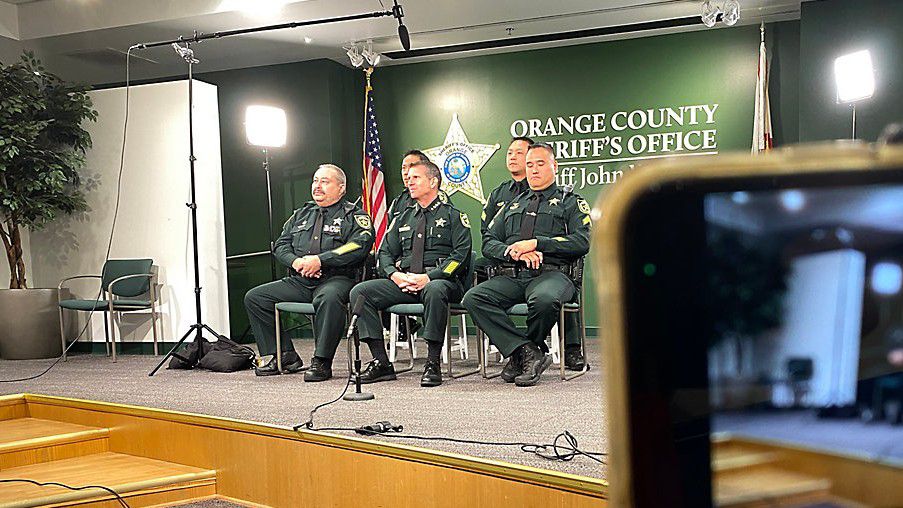 OCSO launches initiative to reach Asian American community
[ad_1]
The Orange County Sheriff's Office launched its Asian American Pacific Islander Outreach (AAPI) program in February. This is a new initiative that officials say will help bridge the gap between law enforcement and the Central Florida AAPI community.
---
What do you want to know
OCSO launched its Asian American Pacific Islander Outreach Program in February
The organization is dedicated to helping law enforcement learn more about community members
Local citizens say they hope the program, and others like it, will build trust in minority communities
---
The Liaison Program is a working group whose members represent a variety of backgrounds and speak multiple languages, ranging from Vietnamese to Cantonese.
Each deputy said they had particular reasons for joining the team. Deputy James Chan, whose parents are from China, said he thought the program was doing a good job and building confidence.
"It's very united, so building that trust so they see we can help them is the first hurdle to jump," he said. "I am proud to be part of this process."
Modeled on the sheriff's office's LGBTQ bonding program and encouraged by a local NAACP chapter, department officials said the team seeks to overcome cultural and/or translation barriers.
Bureau members also hope to make law enforcement more visible at events, such as celebrating Heritage Month in May in Orange County.
It's an idea that Ayan Desai, a student at the University of Central Florida, applauds. He said he just wished it was part of his experience growing up in Okeechobee, South Florida.
"(There are) not a lot of Indians in Okeechobee — not a lot of Indian officers in Okeechobee — so it's kind of hard to connect with them," Desai told Spectrum News. "And when you get pulled over by a white cop, you get scared (of) how they might react to you."
While Desai said he never feared for his personal safety and had an excellent support system at home, he faced microaggressions at school, from elementary school through to graduating. studies.
He said it would be as simple as making his lunch, usually leftovers from his family's Indian meal the night before, to staring eyes and whispers from his peers – "It looks disgusting," he recalls having understood.
Later, when Desai was driving to school one day, he described being pulled over for a minor violation. His parents ignored the meeting.
"When my parents were emigrating, they couldn't really rock the boat," he said. "That's how it's worked for a lot of immigrant parents — our generation right now is really, 'We have to get up and do things to make the change.'"
The search for greater diversity and inclusion drew him to UCF, where Desai devoted his studies to biochemistry and his free time to playing various instruments like the French horn and the mellophone. He joined the school band, the Marching Knights, in his first year.
But, after attending a vigil last year for the Atlanta spa shootings – where eight people were killed, including six Asian Americans – Desai said he joined a cause that may have be even more impactful: the American Asian-Pacific Coalition (APAC).
"It reminds me of how much I want to make an impact," he said, viewing the emotional vigil on campus, during which students rallied in solidarity against Asian hatred.
Neither incident in central Florida has spawned the local AAPI movement, nor the vigils, Desai and others said.
The same goes for the creation of the Orange County Sheriff's Office Task Force, Chief John Mina said.
Still, the ever-optimistic Desai said it was all about improvement and visibility. In fact, he said he was now running for president of APAC.
"One of the things we want to see is more 'hiring' of Asian Americans in law enforcement," he said. "We know that if there are more people who look like us, more people who are trained in diversity inclusion (we'll see) less of the issues that we currently see in the news today.
"Change won't happen until people in the community realize that we're going to be here, we're staying…there's always work to be done."
According to department records, of more than 1,600 full-time sworn law enforcement officers at the Orange County Sheriff's Office, 28 identify as Asian American or Hawaiian/Pacific Islander.
[ad_2]
Source link