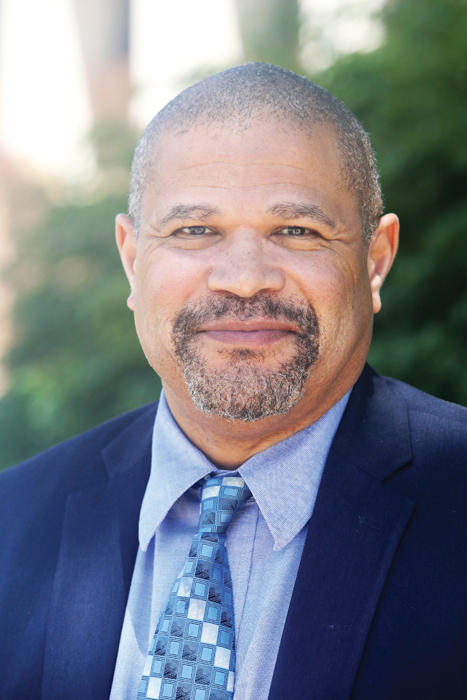 Personality: Corey M. Nicholson | Richmond Free Press
Corey M. Nicholson's appreciation for baseball, its history and its impact dates back to his childhood watching hours of New York Mets games on black-and-white television with his grandparents.
Today, Mr. Nicholson uses his passion and knowledge for the game to guide the formative sports experiences of young people in Richmond as Chairman of the Board of the Metropolitan Junior Baseball League.
"I've always loved baseball, so I love knowing that the game I love helps our kids and our community," says Nicholson. "I feel like, in a very small way, we're working to save baseball in the African-American community."
The New York native sees a deep connection between sports and African American history. Mr. Nicholson points to Jackie Robinson and the Negro Baseball League as having a major presence for the African-American community, serving as important touchstones for racial progress and equality.
Given MJBL's historic status in Richmond and beyond since its founding in 1966, Mr. Nicholson's involvement would seem like an obvious choice for him. He joined MJBL about 15 years ago as a volunteer, inspired by an article about the organization that prompted him to call Bill Forrester, MJBL's chief executive and son of its founder, William MT Forrester.
Mr. Nicholson sees the non-profit league's work as a benefit for players, boys and girls aged 4 to 19, on and off the field.
"Because of the wide range of skills used in baseball, almost anyone can excel," Nicholson said. "MJBL wants to help develop good people, not just good players."
Even when COVID-19 temporarily halted MJBL games, Mr. Nicholson and others continued the league's work by hosting the Bobby Bonds Memorial Symposium from July 20 to August 10, 2020, on a virtual video platform. The symposium promotes interest in baseball among African Americans, particularly historically black college and university programs. In 2020, the program also honored the 100th anniversary of National League Baseball.
As the 56th season of MJBL begins earlier this month, Mr. Nicholson and others are exploring ways to expand MJBL's educational and cultural programs, which range from book clubs to various initiatives with MJBL partners. .
Such programs are essential to ensure that the non-profit organization is of overall benefit to the approximately 350 children involved, as well as to maintain MJBL's finances.
"We want to provide more opportunities for children on and off the field," says Nicholson. "Ultimately, we need to continue to raise awareness for MJBL and hopefully convert that buzz into fundraising dollars."
Mr. Nicholson's strategy for achieving his goals speaks to the unwavering commitment he brings to his role and work with MJBL. It is also good advice for the children served by the association, whether in the field or in their everyday life.
"Stay focused and keep plugging in," says Nicholson. "Small victories ultimately lead to bigger successes."
Meet a local Richmond youth sports leader, Corey M. Nicholson:
Volunteer position: Chairman of the Metropolitan Junior Baseball League (MJBL) Board of Directors.
Occupation: Assistant Commonwealth Attorney for Henrico County.
Date and place of birth: January 21 in New York.
Where I live now: Richmond.
Education: Yale University 1986; Harvard Law School 1989.
Family: Lisa (wife); Morgan, Dominic, Jazmine, Chelsea (children); RJ, Madison, DJ, Ethan, Evan (grandchildren).
The Metropolitan Junior Baseball League (MJBL) is: A non-profit, volunteer-run organization that strives to keep organized baseball available to inner-city youth. It is one of the oldest African American youth baseball leagues.
Assignment: To provide a platform for socially and economically disadvantaged young people to realize their self-esteem through educational, athletic and cultural enrichment programs. MJBL is committed to ensuring that our young people are productive citizens who are prepared for success.
When, where and why founded: The MJBL was founded in Richmond in 1966 after several African American fathers were told their sons could not play in the established youth baseball league because of their race. With the help of several local African American businessmen, these fathers created MJBL so that all children could play organized baseball, regardless of race.
Founder(s): MJBL was founded by Dr. William MT Forrester with support from Caesar Barron and Dr. Philmore Howlette. Dr. Forrester's son, Bill, is the current executive director.
Importance of MJBL in the world of Little League: MJBL has worked with youth baseball leagues across the country and in the Bahamas to support efforts to keep baseball alive in inner cities and low-income areas.
How I connected with MJBL: I read an article about the MJBL (I believe it was in the Richmond Free Press) and volunteered by calling Bill Forrester.
Why I'm excited about MJBL: I've always loved baseball, so I love knowing that the game I love helps our kids and our community. I feel like, in a very small way, we're working to save baseball in the African American community.
MJBL is a partner of: Major League Baseball, Henrico County, City of Richmond, Richmond Police Athletic League. Frank Thornton, member of the Henrico County Board of Supervisors, was always helpful. Parney and the Flying Squirrels have been one of our biggest partners/supporters since joining.
Ways to get involved with MJBL: We are always looking to train new coaches and assistant coaches. We also need volunteers to help us with administrative tasks to keep the league running. We encourage people to support the children by coming to see a game or two.
MJBL offers: A chance for our children and the African American community to rediscover the magic of baseball and rekindle the passion we once had for the sport.
How to register your child: Visit our website MJBL.org to register online. There is also contact information if you need to talk to someone.
When and where fans can come cheer on the teams: We play games all over Richmond and Henrico, so you can find schedules on MJBL.org. We have several church groups and (fraternities and sororities) that have adopted teams to support. Please contact us if your group would like to adopt a team.
My Favorite Major League Baseball Team: New York food.
Favorite player and why: Jackie Robinson for what he means to African Americans, baseball and America. He had to endure a huge amount of hate. He handled it gracefully and overcame it. Heisaniconandarole model that all Americans can admire.
Little League baseball taught me: The need for teamwork. The rewards of hard work. The pleasure of fiery competition.
Events to come: Our current season is already underway. An MJBL team will represent the United States at the Caribbean Championships for the Bahamas July 7-11. The 31st annual MJBL Downtown Classic will take place August 3-7 in Richmond and Henrico.
A perfect day for me is: Get up early to enjoy a cup of coffee and enjoy the silence of the new day. A day at the beach with the family. End the day with good food and music with family and friends.
What I'm learning about myself during the pandemic: I drive my wife crazy if she doesn't get regular breaks from me.
Something I love to do that most people would never imagine: Watch corny off-season Christmas movies.
A quote that inspires me: "Ignorance combined with power is the fiercest enemy justice can have." —James Baldwin.
My friends describe me as: Calm, determined and loyal.
At the top of my to-do list: Find partners to help fund and implement a tutoring/study program for MJBL children.
Best late night snack: Cold pizzas.
Best thing my parents ever taught me: The importance of education and openness to new things to live a full and fulfilling life.
The person who influenced me the most: My parents. They were both great role models and always supported me.
Book that influenced me the most: "The Autobiography of Malcolm X" told to Alex Haley.
What I'm currently reading: Re-read Lerone Bennett Jr.'s "Before the Mayflower" so I can share it with the grandkids.
Next goal: Help make the MJBL Inner-City Classic a truly national tournament.