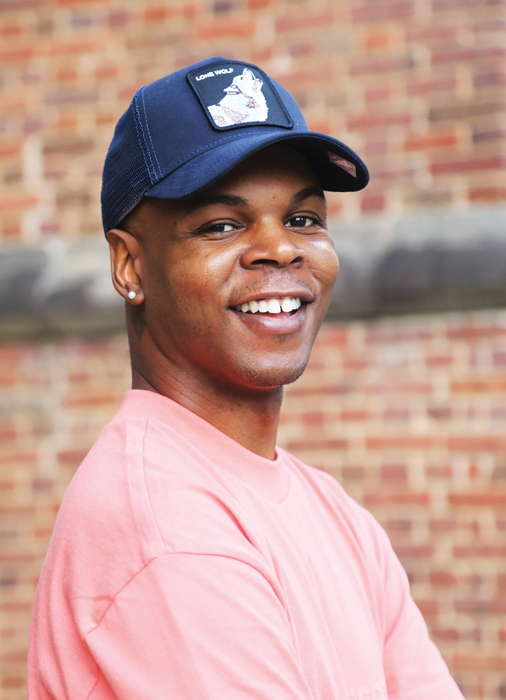 Personality: Jamal Brooks | Richmond Free Press
[ad_1]
Jamal Brooks was 17 when his education came to an abrupt halt.
In 2003, the Montross native left Washington & Lee High School at the start of his freshman year. The choice was the end result of the problems Mr. Brooks had experienced in a small town where, except for his family, he felt rejected because of his sexuality.
Mr. Brooks eventually returned to school in 2010, earning a GED at J. Sargeant Reynolds and a multi-year Bachelor of Social Work at Virginia Commonwealth University. The experience left him with a deep appreciation for education – an appreciation that forms the foundation of his work with the VA Pride Scholarship Committee.
"What education did for me, I wanted to do for people who I knew were probably going through the same things as me as an LGBTQ man and a person of color," Brooks said. "That's really what drove me to do it."
Mr. Brooks has led the VA Pride Scholarship Committee since being elected chair in 2019, having joined the group to ensure diverse representation among its members and support change. The organization's mission is to provide financial assistance to members of the LGBTQ community and their families to help offset the costs of a post-secondary education.
Over the past few years, Mr. Brooks and the scholarship committee have been able to continue providing money to LGBTQ youth even when VA Pride had to replace its annual in-person Pridefest with virtual events during the COVID-19 pandemic. .
For this year's Pridefest, Mr. Brooks and the scholarship committee will have a major contribution themselves. Through their work with partner organizations, they raised $10,000 in scholarships. Brooks says he's happy to see his work paying off for LGBTQ youth.
"Knowing that the work I do with VA Pride helps others, serves as a way to give back but feels extremely rewarding," says Mr. Brooks. "Any way I can support my community, I will."
Mr. Brooks' work outside of VA Pride also reflects his commitment to community support. Alongside his own entrepreneurial ventures, he sits on the board of REAL (Recovery from Everyday Addictive Lifestyles) Life, which helps people affected by incarceration, homelessness or substance use disorders overcome the barriers to building a successful life.
Ultimately, Mr. Brooks hopes to encourage greater representation and diversity within VA Pride. In discussing his relationship with VA Pride, Mr. Brooks shares a story about his first year with VA Pride in 2019 where his showcase and performance of LGBTQ ballroom culture received a positive and welcoming response. It's an experience Brooks hopes others can have through the nonprofit and his work.
"That's what I hope to see the most – bridging the gap and being inclusive," says Brooks. "We're going to have a good Pride this year, (and I'm) really excited about it."
Meet a key leader in supporting and celebrating Virginia's LGBTQ community and this week's personality, Jamal D. Brooks:
Volunteer position: VA Pride Fellowship Chair.
Date and place of birth: January 8 in Westmoreland country.
Where I live now: Richmond. Education: Bachelor of Social Work, Virginia Commonwealth University.
Occupation: Entrepreneur.
Family: A brother and a sister.
Mission VA Pride: Our mission is to impact the LGBTQ community by creating a safe environment, substantial resources, and connectivity across Richmond and Virgina.
When and why VA Pride was founded: Founded as an all-volunteer non-profit organization in 2006, Pride events in Richmond have been taking place since 1979. After the Stonewall Riots, it was clear that our community needed full support and from there, Pride events began popping up all over the United States, creating a celebration of who we are and should be — PROUD.
VA Pride is important in our community because: It serves as a resource, a safe space, merging intersectionality, embracing diversity and fostering mutual understanding.
Who benefits from VA Pride: Everyone benefits, socially, economically and politically, by raising awareness, promoting inclusivity and bridging the gap.
When and why I got involved: I became involved with VA Pride in 2019 to bring diverse representation to support change.
When elected/appointed Fellowship Chairman: Elected 2019; named 2020.
Meaning of being Fellowship President: My passion for helping others, along with my background in social work, allows me to be an agent of change by responding to the needs of our community.
Number one goal or project as Fellowship President: Acquire financial means to help as many people as possible to pursue the desired career.
Strategy to achieve the objectives: Working tentatively with Bank of America to expand the scholarship program.
Ways VA Pride raises scholarships: Our scholarship is funded by a grant from Bank of America this year.
Who benefits from the scholarships: Everyone who applies.
How does a student qualify or express interest in being chosen for a scholarship opportunity: By submitting a request which is then discussed and examined by the members of the committee.
Amount of scholarship to be distributed: $10,000.00
Black Lives Matter and VA Pride: VA Pride unequivocally believes and affirms that Black Lives Matter. As a person of color, joining VA Pride was important in that it gave me a chance to create representation in a way that I felt was necessary.
COVID-19 and VA Pride: COVID-19 has had a significant impact on how we operate as an organization. Most of our events were canceled, which then led us to create and host events and other projects virtually. It's been three years since we've had Pridefest, but this is by far the best to come.
Ways to get involved with VA Pride: To volunteer by emailing [email protected] for volunteer opportunities.
How I start the day: Positive vibes and daily affirmation. Being productive is key, checking in with others, remembering to be nice.
Three words that best describe me: Empathetic, generous, creative.
Best late night snack: Skittles (purple bag).
How I relax: Traveling alone, shopping, taking care of yourself, spending time with family.
What I learned about myself during the pandemic: During the pandemic, self-actualization began to manifest in a way that was needed.
Something I love to do that most people would never imagine: Writing is my passion (and I'm currently working) on ​​a self-help/autobiography sequel that focuses on the lives of marginalized groups.
A quote that inspires me the most is: "You only live once" – I live by that.
At the top of my to-do list is: Be productive, make the most of the day/hour.
The person who influenced me the most: My mentor, "Johnny", who changed my life by just being there for me, with no motivation. Throughout my schooling, he was there to help me in every way imaginable. Without him and his undeniable support, I would not be the man I am today.
Next goal: Keep working on the sequel to my book while creating a hoodie/hat line.
[ad_2]
Source link