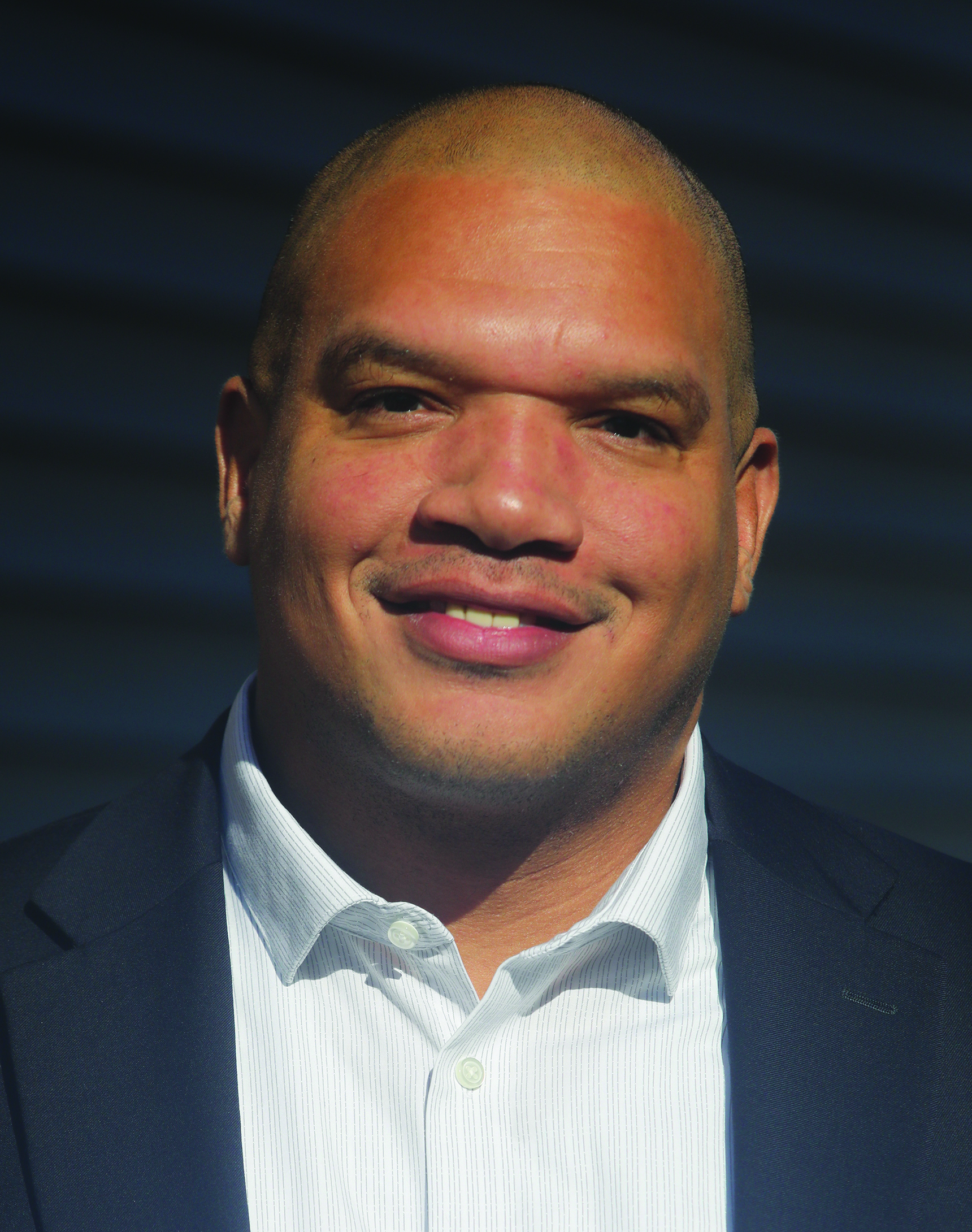 Personality: James W. Warren | Richmond Free Press
Amid the continued transformation of Richmond's landscape and infrastructure, James W. Warren seeks to bridge the gap in many ways.
The new Chairman of the Board of the Richmond BridgePark Foundation, or BridgePark RVA, is looking forward to implementing the plans and vision for a better, more connected city during his three-year term which began on 1 January.
"I have long believed in Richmond's unique potential – and the unique role that only our city can play – in healing and racial, economic and social equity," Warren says of his reasons for taking on this role. role.
"I also love the James River and believe that creating equitable access to the river – to connect, reflect, enjoy – is crucial for all of Richmond, especially our historically excluded and intentionally separated communities and neighborhoods."
BridgeParkRVA's mission is to transform part of 9th Street downtown, including the Manchester Bridge, into "an inspiring centerpiece for everyone to connect with the river, our stories, new opportunities and to each other," Mr. Warren says, "while serving as a national model of racial reconciliation through public space.
As envisioned by BridgeParkRVA, a linear portion of the Manchester Bridge would become a pedestrian park, event space and pedestrian and cycle avenue to connect with nature and more, all designed to provide an economic, cultural and social boost to the people of Richmond. On a larger scale, Mr Warren sees the potential for BridgePark to be "a system of bridges and parks that unifies our city in ways we have never attempted".
"Our vision is that BridgePark will be more than a place," says Warren. "It will be an intentional disruption of old divisions; a path to deepen our connection with nature; an economic engine and an uplifting destination that fosters culture and community. It will expand to connect and celebrate the neighborhoods that have always been the cultural heart of our region, and it will become a national model for creating and sustaining places for the Black and Brown community.
He acknowledges that the vision will benefit from buy-in from all segments of the community and government, but he is committed to the inspiration of BridgePark founders, the late Mike Hughes and the late Ella Kelley, who started it all in 2012 with the idea of ​​creating an outdoor venue similar to The High Line park in New York.
He said BridgeParkRVA is finalizing its calendar for the coming year, with upcoming events to focus on equity initiatives developed over the past year, with a storytelling element that will shed light on the under-told stories of communities that BridgePark wants to help.
Mr. Warren sees his biggest goal as chairman of the board as building awareness and support for the project and ensuring fairness throughout.
"The project depends on so many things that are beyond our direct control. That's why we try so hard to do this consistently through deep engagement," says Warren. "It has to be representative of what our city desires, not just what a few people want it to be."
Meet a Richmond bridge builder and this week's personality, James W. Warren:
Volunteer position #1: President, BridgePark Foundation or BridgePark RVA.
Other volunteer positions: Member of the board of directors of the YMCA du Grand Richmond.
Occupation: Vice President of Brand Strategy for JMI, a marketing and consulting firm focused on community engagement; Founder/CEO of Share More Stories, a human experience research company.
Date and place of birth: June 1972 in Nashville, Tenn.
Education: Studied Economics and English Literature at Princeton University and Creative Writing at Columbia University.
Family: Spouse, Darcy R. Warren; three sons, Christian Warren, Jordan Warren and Evan Warren; and his daughter, Alexis Warren.
The Richmond BridgePark Foundation, or BridgeParkRVA, is: BridgePark will be Virginia's front door – a world-class destination in the form of a beautifully designed linear park and a welcoming symbol of our vision for the future. We envision transforming Manchester Bridge from an over-built divide between North and South into a hub of connectivity.
BridgeParkRVA Mission: Our mission is to transform the Manchester Bridge into an inspiring centerpiece for everyone to connect to the river, our stories, new opportunities and each other, while serving as a national model for racial reconciliation across the world. 'public space. Our goal is to help unify our city. We aim to do this in a bold way, based on our belief that bridges can be parks and parks can be bridges. Rather than repeating our past of inequality and intentional separation, we choose to seize the possibility and the collective will to build a better future.
Why I accepted the job: I have long believed in Richmond's unique potential – and the unique role that only our city can play – in racial, economic and social healing and equity. I also love the James River and believe that creating equitable access to the river – to connect, reflect, enjoy – is crucial for all of Richmond, especially our historically excluded and intentionally separated communities and neighborhoods.
Objective or project #1 as Chairman of the Board of Directors of BridgePark RVA: Increase alignment and buy-in for Stage One of BridgePark with key stakeholders to complete an equitable design phase in 2022 and move into the construction phase as 2023 approaches. We will achieve this by involving and by mobilizing the community in new ways around a major unifying project for the city.
Strategy to achieve the goal: Together with the President of BridgePark and our amazing Board of Directors, we will work to raise public awareness and support, embed equity throughout the project, secure funding, and obtain government alignment and approval.
What BridgeParkRVA is doing during the pandemic regarding green spaces and racial equity: We participated in the development of an Equitable Impacts Framework project as one of six park projects across North America chosen for this 2021 cohort. Through this work, we are leading a national model of best practices in matter of equitable development of public space. This year-long project paired us with free advice from the High Line Network, the Urban Institute and the Harvard Graduate School of Design. We also launched the Richmond version of the "Insectageddon" program in partnership with the Department of Education, The High Line in New York, partner parks across the country, Partners in the Arts and Richmond Public Schools.
How BridgeParkRVA is reinventing Monument Avenue where the Confederate statues once stood: If we are thinking beyond the immediate and looking ahead 100 years from now, how do we expect Richmond to talk about these sites? This makes it useful. This makes him visionary. I have no idea the answer because no one should. But I believe that if we try to answer this question together from the perspective of the future, I think we can do things right for the city. It's also why we're so focused on the power of BridgePark, as a place and space that connects past, present and future – from the ruins, to the redlining, to the river running through it – and connects us to each other in new ways.
What I love most about Richmond: Potential and culture.
What I like least about Richmond: Sometimes we get stuck in our ways, limited by what we see or have seen versus what could be.
A perfect day for me: Time spent with family; writing achievements with my team and clients; cook and enjoy a good meal; and laugh.
What I'm learning about myself during the pandemic: I crave structure more than I thought.
Something I love to do that most people would never imagine: Sing karaoke (Prince) and do a little hip hop era performance once in a while.
Quote that inspires me: "There is no greater agony than carrying an untold story in itself." —Maya Angelou
My friends describe me as: Fun and funny, a talker, someone who will support them.
Best late night snack: Salted caramel covered in chocolate.
Best thing my parents ever taught me: "Crying can last a night, but joy comes in the morning." So I never give up no matter how hard things get.
What I'm currently reading: Two books – "Strategic Doing: Ten Skills for Agile Leadership" by Edward Morrison, Scott Hutcheson, Elizabeth Nilsen, Janyce Fadden and Nancy Franklin and "The Messy Middle: Finding Your Way Through the Hardest and Most Crucial Part of Any Bold Adventure" by Scott Belsky.
Next goal: Run a 10 km. This will be my third time, but the first since 2019.