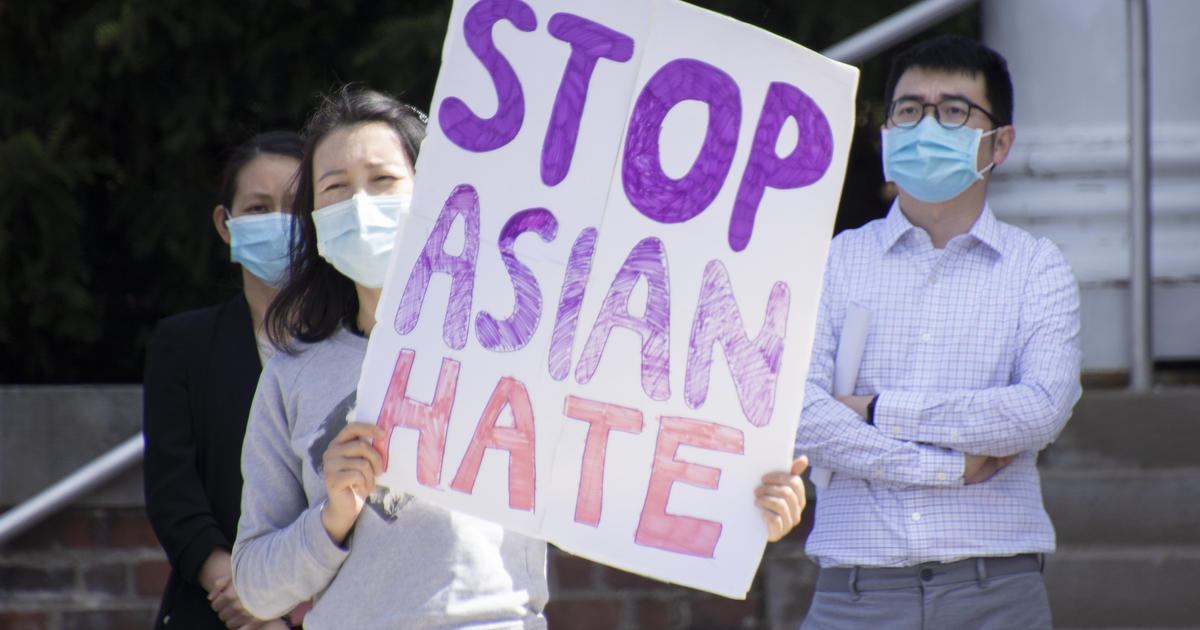 Rally in UK supports Asian and Asian American community
LEXINGTON, Ky. (March 31, 2021) – In a strong demonstration of support for the Asian community, hundreds attended a rally on the University of Kentucky campus last week to denounce the massacre of Asian Americans in Atlanta as well as global discrimination against Asians and Asian Americans in the United States.
The crowd of nearly 400 gathered outside Memorial Hall on March 24, many carrying signs and all supporting a call for change. Second-generation Asian American Donna Kwon, associate professor of ethnomusicology at the UK College of Fine Arts, performed beautiful Korean songs and led a song of the names of the Atlanta victims.
One of the rally organizers, Associate Professor Ying (Tracy) Lu, of the Retail and Tourism Management Department of the College of Agriculture, Food and Environment, was delighted to this support.
"I saw humanity when I saw this scale of participation. The supporters were diverse, including people of different colors, backgrounds, minority groups and children of British employees, "said Lu." We are happy to see the support from the British campus and the unity of Asian Americans. and Asian. Asians and Asian Americans should be treated equally as citizens. I hope that day could come sooner before my children grow up, so that I can tell my children that your parents, as well as so many honest and humane people, spoke for you and fought for you, this which is also part of American history.
Speakers at the gathering included Haoying Sun, Associate Professor Warren W. Rosenthal in the Department of Marketing and Supply Chain Management at Gatton College of Business and Economics. She said the Asian American community is becoming the scapegoat for problems in American society, being accused of bringing viruses into the United States, stealing jobs and spying for the Chinese government.
"Of course, none of this is true! Enough is enough! "She said." We came to this land to pursue our American dreams. Along the way, we are building this country, like everyone else! We want equal treatment and equal protection, like everyone else. We want to leave our children with a prosperous America just like everyone else! So stop treating us like strangers, stop attacking the most vulnerable in our Asian American community and stop dismissing our concerns! let's talk, and please listen to us.
Professor Keiko Tanaka, from the Department of Community Development and Leadership at the College of Agriculture, Food and Environment and co-chair of the UK Asian and Asian American Affinity Group, told the group she is from Japan but that she had spent 35 years in the United States. and considers herself a first generation Asian American immigrant. She said the Atlanta shooting "felt like a punch in my gut."
"It shattered a barrage of years of frustration, disappointment, heartache and anger that have built up in me – of what it means to be an Asian American in this country," he said. she declared. "We Asians and Asian Americans are not a homogeneous group that fits a set of stereotypes like the so-called 'model minority' or 'math / science wiz.' Let us stop this "model minority" as an excuse to treat Asian Americans as a convenient minority. On the one hand, we are not categorized as a minority group under-represented by number / ratio, and therefore ignored of our contributions to the enrichment of American socio-cultural fabrics. On the other hand, we are part of the community of people of color who experience constant prejudice, racism, abuse and hate crimes.
Tanaka further urged the community not to turn anger, frustrations, grief and pain into hatred.
"Do not reduce ourselves to the same level as the white terrorists. Instead, let's build a broad and deep coalition. Let's build alliances capable of accumulating energy and creativity based on mutual respect and love. Let's create a culture that no longer tolerates racism and hatred. "
Representing the students' perspective, Yan Xia, an MBA student and father of two young children, addressed the rally participants: "I told my kids last night that Dad would be their superhero because I will be there and speak for them. When our children go to school, they should not be discriminated against because of their hair color, their gender, nor make fun of their English accent, nor feel embarrassed by the lunch prepared by their Asian mother. It is not fair. We are not strangers. We are citizens although we are never treated equally.
British Provost David Blackwell also addressed the crowd.
"The Asian and Asian American members of our community are integral and valued parts of the British family. They are part of the rich tapestry that makes us who we are, "Blackwell told the crowd. "We also recognize that we need to back up our words with action. This is why our university engages in global efforts to improve the diversity, equity and inclusion of our university community. It is important work at a crucial time.
Other powerful speeches and a strong show of support came from Sue Roberts, vice president for internationalization; Huajing Maske, director of the Chinese Initiatives Office; Kyra Hunting, Director of Diversity and Inclusion at the College of Communication and Information; Rudy Buchheit, Dean of the College of Engineering; and other heads of departments at the university.
Lu said the presence and support of these directors is appreciated.
"We look forward to working with the university administration to make the UK community a safe and proud place for British Asian and Asian American employees, students, friends and affiliates," she said. .
Other supporters who speak out against anti-Asian crime and discrimination include Mark Swanson, associate professor in the Department of Health, Behavior and Society at the British College of Public Health and former member of the Third District Lexington-Fayette Urban County Council .
"The Atlanta tragedy is but a manifestation of the deep and underlying problem of racism that our Asian colleagues and friends regularly face," he said. "I think it's really important to realize that Asian Americans are not the cause of this hatred and discrimination – white Americans are. And Asian Americans cannot solve the problem, but white Americans must be and can be the solution to racism in all its forms.
Nancy E. Schoenberg, Marion Pearsall professor of behavioral science at the College of Medicine and director of the Center for Health Equity Transformation, said the horrific attack in Atlanta sounds yet another wake-up call in a nation already besieged and plagued by division and hatred.
"The Center for Health Equity Transformation is united with all and is committed to calling and working to rectify hatred, misogyny, racism and xenophobia," she said. "We mourn the loss, suffering and anxiety of the Asian community affected by this violent, xenophobic and racist attack. We call on each of us to speak out against this and all other acts of partiality and violence, to seek and obtain justice, and to work to end all forms of structural and personal racism. Our lives and our nation depend on it.