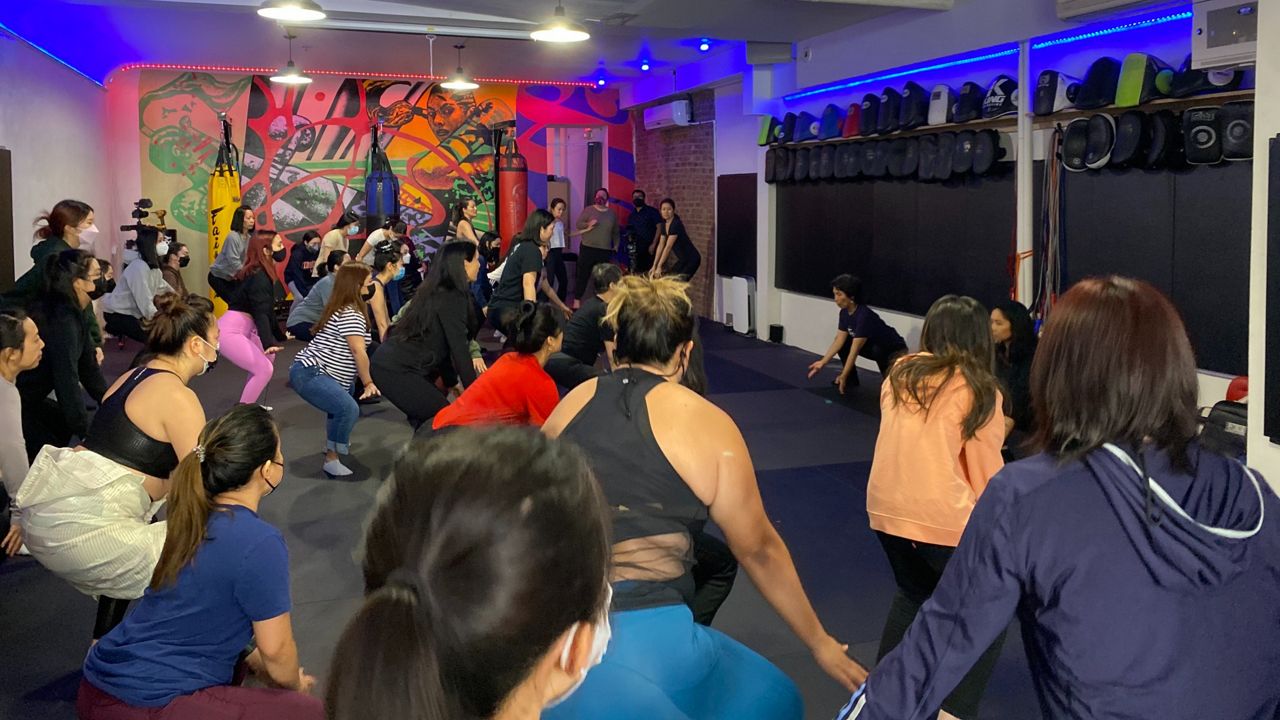 The Asian American community learns self-defense
Sisters Elizabeth and Alberta Yan spent their Saturday afternoon punching, kicking and blocking. This was all part of a self-defense class for women in the Asian American Pacific Islander (AAPI) community.
"When I walk down the street, I don't feel safe anymore," Alberta Yan said. "It's not my house anymore. I can't go out without fear of being verbally or physically attacked."
AAPI activist groups OCA-NY and Soar Over Hate hosted the event at Two Bridges Muay Thai in Chinatown. They said the increase in anti-Asian hate crimes has created a need for such courses.
According to the NYPD, this time last year the city recorded 52 hate crimes. But last weekend, that number jumped to 153.
"The reality is that racism existed even before our generation," said Elizabeth Yan. "It's just more heightened now because I think more people are paying attention to it."
In January, Michelle Go, 40, was killed after being pushed in front of a train, and in February, Christina Yuna Lee, 35, was killed after being followed in her Chinatown apartment. Their deaths represent a frightening reality for Yan.
"The truth is, taking so many classes, having pepper spray with you won't be any safer," said Elizabeth Yan. "The truth is these attacks are because you're caught off guard, they come out of nowhere, they're unprovoked. I'd like to think it's going to be preventative, but the truth is it's It's just a sense of prevention and it won't stop what's happening."
Instructors taught fundamental martial arts techniques, situational awareness, and bystander prevention. Jess Ng is one of the instructors.
"It's a shame that it's in high demand. I was recently asked to lead these seminars probably every weekend," Ng said.
Many of those who took the course said they wanted to learn these security skills to be more confident in their ability to fight back if a violent situation were to arise.
"I think in general, women should be able to protect themselves," student Tammy Wang said. "I think there are a lot of issues in general, safety issues. I've traveled all over the world and I understand what you can do to defend yourself. As a woman you are already vulnerable to some degree , so just find those opportunities not to hurt someone else but find a way to protect yourself from some kind of harm."
The students also left equipped with pepper spray and a personal security alarm.
Ng says those security skills are powerful. She believes that change and community go hand in hand.
"Learn how to make friends and build relationships with your neighbors and the people around you in the community," Ng said. "We are so lucky to live in New York in one of the most diverse cities in the country and unless we build relationships and understand and learn from each other, our diversity is essential to humanity. "
Organizers said they plan to hold a monthly class, not only to teach self-defense, but also to teach these skills using an art form from the AAPI community.