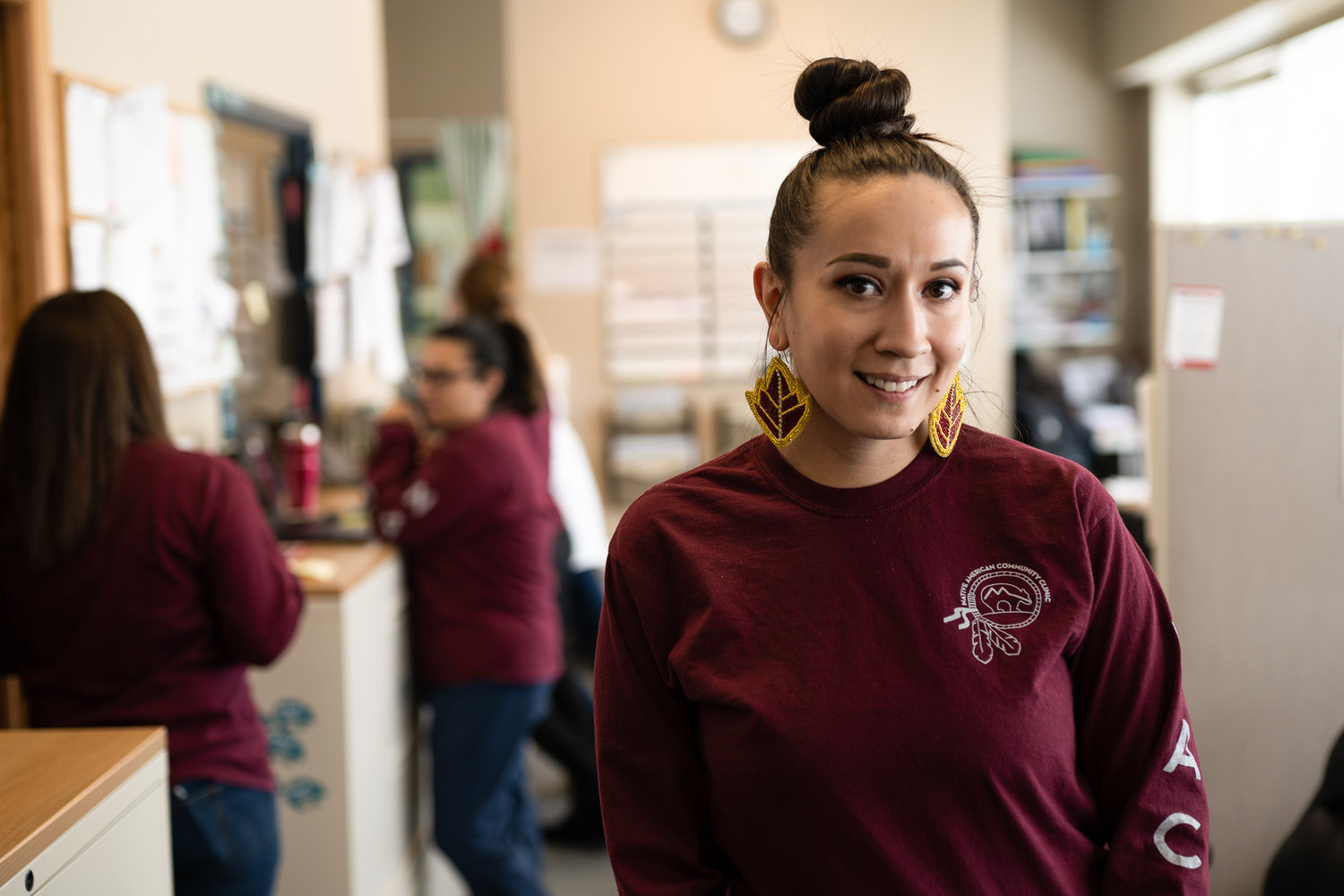 The Native American Community Clinic combines medical care, classes and Native spiritual practices
By CHLOE PETER
A patient who had an appointment for a COVID-19 vaccine had doubts. They were eager to receive the vaccine and did not know if they wanted to continue on the scheduled day. Anita Tapio, Traditional Healing Coordinator at the Native American Community Clinic, organized the smudging with the patient. Smudging is a ceremony involving sacred herbs or resins that purifies or cleanses the soul of negative thoughts of a person or place. After getting stained and having a conversation with Tapio about getting her own booster, the patient felt less anxious about the vaccine and was ready to receive it.
"I think combining health care and culture is vitally important because without culture there will always be that piece missing," Tapio said.
The Native American Community Clinic (NACC), located at 1213 East Franklin Avenue in Minneapolis, opened in 2003 to address health disparities within the urban Native American community of the Twin Cities. Their mission is to promote the health and well-being of the mind, body, and spirit of Native American families and to provide a full range of health services including medical, behavioral health, dental, and substance addiction. As a community clinic, NACC will see patients regardless of their ability to pay.
NACC combines its health services with traditional medicine and culture. The clinic aims to honor health and tradition by providing spiritual care and access to traditional healing. To promote these ideals, the Traditional Healing Committee has planted sage in the garden outside the clinic. Sage is used for purification in the clinic and is given to members of the community. The clinic has also planted tobacco, sweetgrass, cedar and other traditional medicines around the clinic to provide teachings and be used by community members.
"The relief that some of our patients feel when we are able to provide them with sage or mash, I don't even know how to describe it, but it's so cool to know that we are able to help patients. people that way," said NACC operations manager Ashlee Jallen.
NACC also offers courses for members of the community they serve. One of these classes is to make fringed dresses where participants will be given the necessary materials and learn how to create them before the powwow season. Classes like these help people return to their culture and find acceptance and support. Tapio mentioned that many attendees will return and are excited to make jingle dresses for their granddaughters and friends.
"Knowing that there is something bigger than you and having spirituality is vitally important," Tapio said. "Just as important as the medical part."
The clinic also has a holistic approach to health care. They aim to tackle the root causes of health disparities, such as access to food, housing and health insurance. According to the Minnesota Department of Health, entire tribal communities, like the Red Lake Reservation, lack access to fresh, healthy food. And, according to the Minnesota Homelessness Study, 48% of Native Americans were homeless in 2018. The clinic addresses these disparities through resource navigation, care coordination, outreach, and community activities through the use of peer recovery coaches and community health workers. NACC also partners with outside businesses and non-profit organizations to connect anyone with the care they need.
"Our patients tend to come here more than once, and we can build that relationship with them and really make sure we get them the services they need. If we can't provide it, we find outside resources that can," Jallen said.
Additionally, NAAC offers several unique addiction treatment programs in partnership with Red Lake Nation. They offer a heroin and opioid addiction program that includes daily dosing, harm reduction services, spiritual care, mental health care, nursing coordination, and drug and drug counseling. 'alcohol. A culture-centered outreach outpatient program is also offered, which is rooted in Indigenous spiritual practices to address substance use disorders. This program includes individualized programming with a gradual descent, daily prayers and cultural teachings by the NACC Elder-in-Residence, medication treatment, health education, relapse prevention, individual, family and group therapy and peer recovery support.
"I've seen women recovering from addiction. They came and made ribbon skirts or learned dances that they wanted but never could," Tapio said. "Seeing them finish this and getting excited about their culture brought tears to my eyes. It triggers something in them.