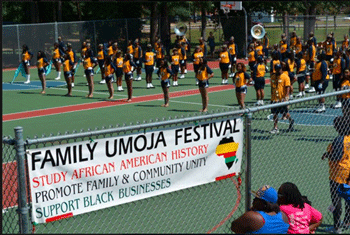 Umoja Group celebrates and shares African-American culture
More than 30 years ago, a small group of friends with diverse interests and opinions shared an appreciation for African and African American culture and a desire to effect positive change in their local community. They decided to form the Umoja group with Dr. Kwame Tuprah and Dorothy Fielder at the helm. Over the years the organization has grown and continues to make a lasting impression in the Fayetteville community.
"The purpose of the group is to share positive cultural information about Africans, African Americans and Caribbean people," said Wanda Wesley, new group director of Umoja, Inc. "It is our duty to highlight and share this information with others so that they can experience greatness, unity and develop mutual respect for each other.
The group, incorporated in 2005, is very active in the community and one of their biggest services is helping students by providing college scholarships. Since 1998, the group has awarded more than $22,000 in scholarships.
"Since the Umoja Group was formed in the community, the scholarships are focused on students who live in the Broadell, EE Smith, and Fayetteville State community," Wesley said. "Thus, most of these scholarship recipients are either students who actually attend EE Smith High School or who have been actively involved in Umoja Group activities over the years as volunteers or supporters."
Wesley added that many of the students who receive scholarships are recommended by the EE Smith Band because many of the students in the band participate in many of their activities.
"We've worked with the school to identify worthy students who have positive attitudes, decent grades, and who give back to the community," Wesley said. "In December 2020, we awarded a $1,000 scholarship to Deborah Effon, a Massey Hill Classic High School freshman who graduated in December."
One of their annual events is the Umoja festival held on the last Saturday of August. "It's a community day and we have singers, dancers, food and produce vendors, and a health fair," Wesley said. "For the past few years we have partnered with Darvin Jones of Cape Fear Valley to host a health fair and it has been very well received."
The health salon is designed for people who don't normally visit the doctor for routine physical exams. Health screenings include cholesterol, HIV rapid test, depression screening, blood pressure, blood sugar, body mass index, vision screening, lung function tests, vaccines against flu, blood type, AFib test and more.
"One year there was a person whose blood pressure was so high and she didn't realize it and came to the health fair," Wesley said. "They discovered that they had to take care of certain things and it may have saved their lives."
"What I think is really special about the festival is that it's intergenerational, something for the whole family, wholesome, fun and exciting," Wesley said. "You would feel comfortable bringing your grandchild out as well as your grandparent."
Darvin Jones, Cape Fear Valley Community Health Coordinator, gave his take on the group.
"I think the Umoja group is doing a wonderful job in the community trying to bring culture and heritage together," Jones said. "Umoja means unity and that is exactly what they do through some of their education and appreciation programs for arts, culture and positive history.
"I contacted the Umoja group ten years ago to do what I call the hospital doing a home visit in the community," Jones said. "The first group I approached about it was very lukewarm, but the Umoja group loved the idea, so we got together and discussed the vision of what it could be."
Jones added that together they executed that vision and it is now part of the Umoja Festival. Every year they find something they were screening for, like high blood pressure, in abundance.
Not only is it designed to find these things, it's designed to help people. It has become the county's largest health show.
The Kwanzaa celebration has become a popular grassroots event in the community. "We recently had our Kwanzaa celebration and that's when I started with the Umoja band," Wesley said. "The celebration is a big community gathering of people and it tells them the story of Kwanzaa and the seven principles, their meanings and how they can live that through their lives.
everyday life."
In recent years, the celebration has taken place at the Smith Recreation Center. "There is a fixed program and we usually start with a drum call, a welcome, chanting, a libation to those who have passed, a parade of African kings and queens, a tribute to the elders, a feast, storytelling , a scholarship presentation, dancing and more," Wesley said. "One of our most popular acts is Shaka Zulu, performed by Larry Johnson, who has been doing this for over 20 years and everyone is looking forward to his performance."
Due to the circumstances of COVID-19, the celebration was held virtually on Facebook in December 2020. "We shared Kwanzaa videos throughout December which proved to be well received and we will most likely incorporate this format into the way we celebrate leaving. forward," Wesley said. "We conducted several interviews with children and adults who have been participating in the celebration for years and were able to reach a wider audience to include people from other states and overseas."
Future projects include digitizing the "Wall of Honor" mural to make information more widely available and sharing stories about the people featured on
the mural.
For more information, donations, or to volunteer, call 910-485-8035 or email [email protected]ail.com. If you would like to purchase a copy of Wall of Honor: A Celebration of Fayetteville's Everyday Heroes, contact Donna Barnes at 919-368-5258.
Photo above: The Umoja Festival at Seabrook Park usually takes place on the last Saturday in August. The public event is a celebration of culture and heritage.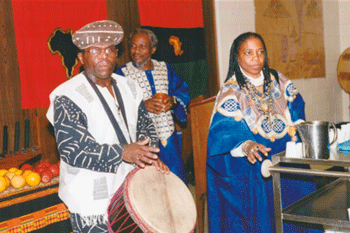 Photo above: Members of the Umoja group celebrating Kwanzaa (left to right) Ramon Huggins, Dr Kwame Tuprah, Yawa Tuprah.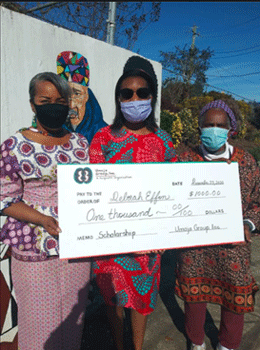 Photo above: Deborah Effon (centre) received the 2020 Umoja Group Scholarship.