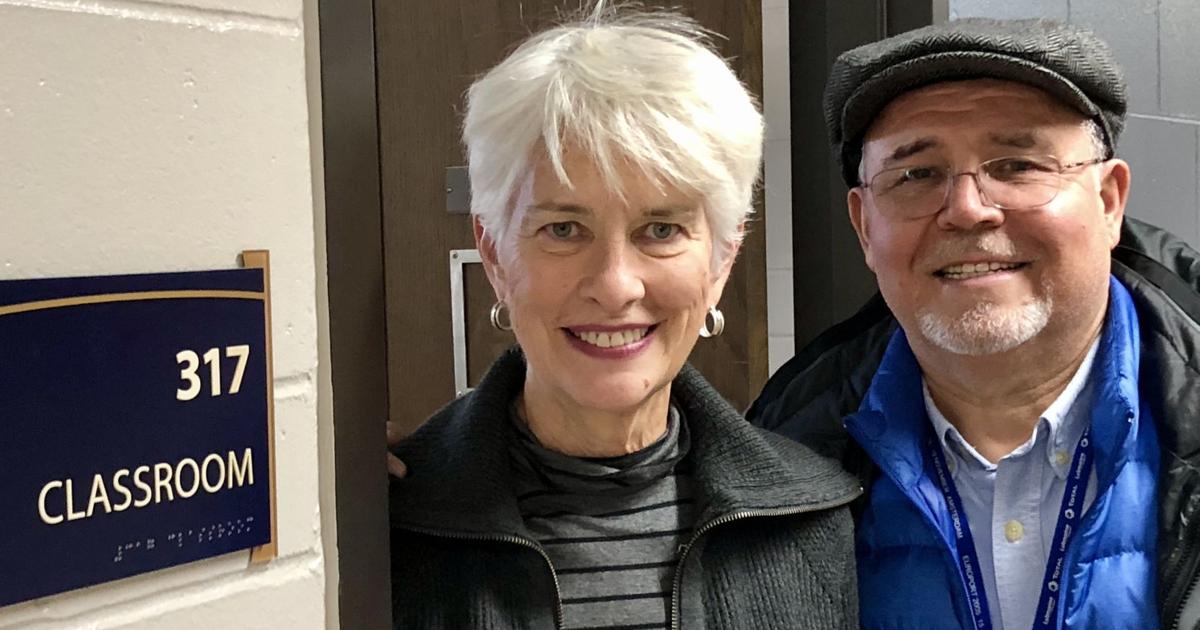 UW-EC graduate shares story of love and integration into American culture in memoir | Culture & Leisure
EAU CLAIRE — In 1975, UW-Eau Claire student Evangelos "Ben" Kyriagis, of Larissa, Greece, walked into class one September morning at the start of his sophomore year at college unsure how his life trajectory was going to change.
Fifteen minutes later Shelley Satturlund, from Amery, rushed into the Schneider Hall classroom and sat down next to him. And the rest is history.
Except, as Ben pointed out in a Zoom interview, it's our story and our stories that define who we become in life. And he knew his stories were worth sharing.
It is precisely for this reason that Ben has documented the stories of his life – growing up in Greece, going to school in Wisconsin, meeting his wife and starting a family here – in a book called "Don't Marry an American : A Memoir of Coming to America". ."
Born in 1954, Ben spent his early childhood in Krania, Greece, a poor village without electricity located on the side of Mount Olympus. From there, his family moved to Larissa. In 1971, Ben participated in an AFS cross-cultural program, as a high school exchange student in Barron.
This eventually led to his two years at UW-Eau Claire, where he finally began to break a promise he made to his mother before he left Greece: "Don't marry an American."
After taking their place in the Schneider classroom, Shelley greeted Ben with a smile. He spent the entire class studying his beautiful neighbor, mentally preparing himself to ask her for her number afterwards. When the bell rang, he followed her out of the room and tapped her on the shoulder.
Ben said his first meeting with Shelley only lasted a few minutes.
"But it left such an impression on my mind that I can still relive it now as if it happened yesterday and not forty-five years ago," he wrote in his book. "I never had the urge to follow a girl after class to get her phone number. Sometimes I wonder what would have happened if I hadn't chased after Shelley that first day of class. But I'm glad I did.
Today, Ben and Shelley are happily married, have two sons and three grandchildren, and divide their time between Minneapolis, Minnesota, and Krania. From their first interaction to now, they have lived a life of love, travel, and cultural integration.
And while Ben described their romance as his "greatest fortune", he said the stories that got him to this point in his life are equally important to understand.
After retiring at the age of 62 in 2016, Ben began working on his memoir. After five years of writing, rewriting, and writing lessons, "Don't Marry an American" was completed in 2021.
"I know a lot of Americans don't really know the story of how their grandparents or great-grandparents came from the 'Old Country,' and I thought it was important to preserve those stories, but at the same time, I also wanted to share my unusual story," Ben said. "I was born in this Mount Olympus village without electricity, I decided to become a foreign student, and then I came back to Eau Claire. Because I was in Barron, it allowed me to come to Eau Claire, and without intending to stay in America, I ended up staying in America.
The inspiration for the title, which Ben says can be provocative to some people, is explained in the memoir itself.
"In August 1974, when I was about to leave Greece to go to university, my mother had this wish and this warning for me: 'You father and I wish you a good trip to America and success in your studies. I only ask you one thing: don't marry an American! ", we read in the book. "It was the same advice my maternal grandfather had received from his grandfather before he left Greece for America. My mother knew it and she believed it had worked well for him.
Despite this promise, Ben proposed to Shelley in 1977.
Apart from his love affair with Shelley, the memoirs also tell tales of Ben's early childhood in Krania, his exciting and difficult move to Larissa, his experiences adjusting to American culture, stories of his grown-ups' youth -parents and much more.
Since the book's release, Ben said he has received positive feedback from readers who found his story relevant for a variety of reasons. He said the book is particularly aimed at US residents born in different countries, people who have been on exchange programs and people who have received "bad advice" from their parents.
"If a hundred people read your story, it's like writing a hundred books, because everyone will get something different. And that's what I find out," Ben said.
Ben, who studied economics at UW-Eau Claire, said he never aspired to be a writer, but always saw himself as a storyteller — and Shelley agrees.
"He was always a storyteller – that's one of the reasons I fell in love with him," she said on Zoom.
Shelley said she felt great pride in Ben's work on "Don't Marry an American". She said her reading brought back many happy memories and she was grateful that they could share their roots with their grandchildren.
"I just think they're great stories," Shelley explained. "And he worked very hard to weave them together into a continuous narrative that makes it readable, makes you want to turn the page to the next chapter and find out what's there. It's not a thriller and it doesn't There's nothing tragic or dramatic about it, but the stories are alive. And I just think it offers insight into Greek life and it offers insight into the contrast between lives.
Two countries to call home
After marrying in 1978, Ben and Shelley lived in Eau Claire, where they had their two sons, for another decade before moving to Minneapolis.
Although they no longer reside in Eau Claire, the couple still consider the Chippewa Valley home. They said they love Eau Claire and the university, and it is to this place that they owe their marriage and their wonderful studies.
After graduating, Ben worked for two major US corporations until he founded his own international trading company, which took him to over 30 countries.
Ben and Shelley spend their summers in Greece with friends and family, where Shelley is now almost fluent in Greek.
"It's wonderful," she said. "Each culture makes us appreciate the other more. It's like leading a double life, really.
Although Ben has stated that he currently has no plans to write another book, he would like to rewrite "Don't Marry an American" in Greek, from a Greek perspective.
Ultimately, says Ben, all he wants to do is share his stories and insights with as many people as possible. He said he hopes to honor his parents and grandparents by sharing their stories, and he hopes these stories can inspire others.
In a note to his grandchildren at the end of the book, Ben wrote, "Finally, Ben, Max and Ellen, marry an American! A Greek, a Canadian or the person you fall in love with. And create and share your own life stories and pass them on to your children and grandchildren.
"Don't Marry an American" is available for purchase on Amazon. It is also on sale at Walmart and other bookstores. For more information on memoirs, visit dontmarryanamerican.com.