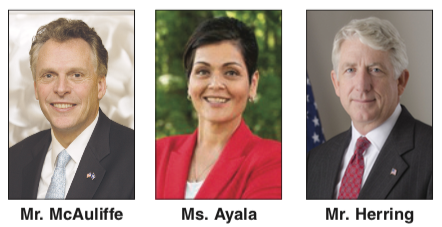 Vote Democrat | Richmond Free Press
[ad_1]
Progress or regression?
The general election of November 2 comes down to this simple choice – whether the Commonwealth continues to move forward on the path of improving the lives of all its inhabitants or whether it reverts to narrow, restrictive, exclusionary, racist policies. , misogynistic and homophobic. and practices for which we have fought for decades.
In this critical election for Virginia's future, we firmly believe that the Democratic team of Terry R. McAuliffe for Governor, Hala S. Ayala for Lieutenant Governor and Mark R. Herring for Attorney General is far behind. strongest to rule Virginia for the next four years.
Upon careful consideration, we believe Mr. McAuliffe, Delegate Ayala, and Attorney General Herring have the track record, the vision and the backbone to move Virginia forward, unlike their Republican opponents.
We have listened throughout this campaign to the racist rhetoric of the Republican candidates, who would do little or nothing to help African American families and people of color if elected. Their interest lies more in banning books and lessons from public classes on the truth of America's racist history through centuries of slavery as well as any meaningful understanding of how these laws, policies and Racist practices have undergone systems of inequality and discrimination in employment, housing, education and justice today.
They also expressed little concern for the health and safety of people of color in the pandemic by rejecting vaccination and mask warrants. As data from the state's health department continues to show, African Americans and Latinos across the state have been disproportionately affected in terms of deaths and hospitalizations from COVID-19.
GOP candidates Glenn A. Youngkin, a Trump sidekick, and Jason S. Miyares showed us where they stand. They care so little about African American voters that they have even refused to engage in an editorial board meeting with the free press to articulate their platforms for the consideration of approval. Only Winsome E. Sears, the GOP candidate for lieutenant governor who is black, attended an editorial board meeting with the Free Press.
During his first term as governor from 2014 to 2018, Mr. McAuliffe showed Virginians and our community that he stands up for what is right. He restored the voting rights of over 173,000 Virginians who had been disenfranchised due to felony convictions.
Voting rights had been deliberately taken away from criminals during a rewrite of the Virginia Constitution in 1902 as part of a targeted initiative specifically to exclude African Americans from electoral rolls. And it worked. Black people had been disproportionately deprived of their rights under this law for decades until Mr. McAuliffe's actions.
Even when Republicans took him to court to challenge his use of an executive order to restore the rights of criminals who had served their sentences and completed their parole or probation, Mr McAuliffe persisted and restored the right to vote of these many people individually.
During his first term as governor, Mr. McAuliffe also began expanding Medicaid in Virginia to provide medical coverage to hundreds of thousands of low-income uninsured families. While his efforts were blocked by a GOP-controlled legislature, his continued efforts ultimately led to an expansion of the Medicaid program under his successor, Democratic Governor Ralph S. Northam. Delegate Ayala, as a member of the General Assembly during this period, voted in favor of the expansion of Medicaid.
As governor, McAuliffe lobbied to protect women's health rights, vetoing Republican-backed legislation that would have restricted abortion rights in Virginia and cut funding to Planned Parenthood , an organization that provides comprehensive health care to women.
It also increased state dollars for public education, expanded preschool for thousands of children, created jobs, and reduced unemployment in Virginia to less than 4%. He also signed a decree prohibiting discrimination against state employees on the basis of their sexual orientation or gender identity.
If returned to the governor's office, Mr McAuliffe has pledged to increase teacher pay above the national average, fund universal preschool programs for 3 and 4 year olds, expand l broadband access to all Virginians and tackle other inequalities in the public education system to build a stronger workforce.
He also pledged to increase funding for child care for working parents, accelerate the plan to a minimum wage of $ 15 an hour, and protect women's rights to health care while expanding the affordability of health insurance in the Commonwealth.
Ms Ayala and Mr Herring would help Mr McAuliffe's progressive agenda come to fruition as lieutenant governor and attorney general.
In addition to supporting the expansion of Medicaid, Ms Ayala voted as a member of the House of Delegates to increase the state's minimum wage, for stricter gun laws to reduce violence, to legalize adult marijuana use and to extend eviction protections for tenants facing financial hardship. during the pandemic.
She also voted to repeal the death penalty in Virginia, a measure that was enacted earlier this year by Governor Northam, making Virginia the first southern state to do so.
Mr. Herring, who is running for an unprecedented third term as attorney general, has been a legal fixture in moving Virginia forward. As attorney general, he went to court to have the racist Confederate statues removed from Monument Avenue; support the cause of the Affordable Care Act; and to challenge former President Trump's order banning Muslim immigrants from entering the United States.
He also defended the right of same-sex couples to marry by refusing to legally defend Virginia's constitutional ban against same-sex marriage.
This election is too important for Virginians – and black Virginians, in particular – not to step aside. We understand the fatigue voters face after President Trump's four-year-old boost and the emotional, financial and social toll of the continuing pandemic.
But we are concerned about recent public wrangling on radio and social media over the Democratic Party's perceived shortcomings; on who deserved the party's nomination to run for governor of Virginia in 2021 and president in 2020; and how some people think it won't make any difference in the lives of black people if Mr. Youngkin is elected governor.
Based on Mr Youngkin's campaign promises, voting rights would be immediately threatened if Mr Youngkin were elected. He would likely use the Trump-backed bogus company to audit Virginia's voting machines, which underwent a rigorous post-election "risk mitigation audit" after the 2020 presidential election that proved the results correct. from Virginia.
Women's health care and reproductive rights would be curtailed under GOP control, along with possible attempts to roll back the expansion of Medicaid in Virginia under the Affordable Care Act. Any effort to end qualified immunity for police officers who mistreat, brutalize and kill people would die on the vine. Public money for education would be diverted to fund private and charter schools. And we wouldn't be surprised if the GOP would try to put the Lee statue back on Monument Avenue.
We can chat from now until the cows come home about who did what to whom and why, but the situation is this: if we don't get together by Tuesday, November 2 and don't vote, we'll be in serious trouble if we wake up on November 3 to find that Baby Trump, aka Mr. Youngkin, will be the next occupant of the governor's mansion.
We urge our readers to vote and support Democrats Terry R. McAuliffe, Hala S. Ayala and Mark R. Herring.
[ad_2]
Source link